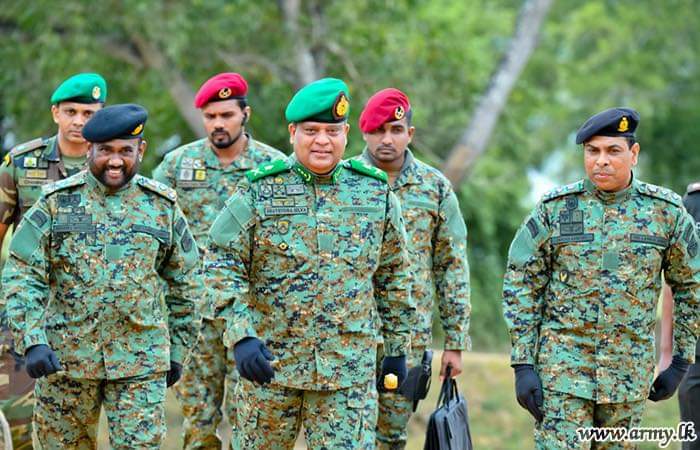 The elite forces of Sri Lanka Army, Commando Regiment (CR) and the Special Forces (SF), the most admired and exceptionally-skilled Regiments of the Sri Lanka Army, famed worldwide for their covert operations and warfare of all forms after conduct of an extensive research using a special reinforcing technique that develops resistance to tearing and ripping, has succeeded in producing the first-ever digitalized and four-coloured camouflage uniform that can be worn by both SF troops and prestigious Commandos of the Commando Regiment.
After presenting this first set of exclusive uniforms to the visiting Lieutenant General Shavendra Silva, Colonel of the Regiment, Special Forces, Chief of Defence Staff and Commander of the Army at Maduru Oya SF Training School when he graced the passing out parade of some 300 SF graduates as the Chief Guest on Saturday (12), he dressed up in the new uniform and opined that CR and SF soldiers, also being a set of uniquely-skilled men in the Army, deserve a special unique dress, too. The new uniform is also armed with special 'Ripstop' reinforcing technique in 55% cotton and 45% polyester fabric.
In the making of the new dress, elite troops covering dry zone, intermediate and wet zone climatic conditions of Sri Lanka, found out the most suited digital pattern and colours for the operational requirements of the Elite Forces (CR & SF) and treated the new production with UV protection and anti-bacterial treatment procedures, so that the new uniform would ensure comfort for soldiers and protect soldiers from UV rays and bacterial infections.
Considering the climatic conditions of the country and the Elite Forces' (CR & SF) operational environment, the fabric has been treated to reduce the troop fatigue and offers a 'wrinkle-free treatment', to signify as the first-ever military uniform of the Sri Lankan defence forces with these types of treatment and manifold qualities which have been subtly added for protection and comfort of the soldiers. IFF (Identification of Friendly or Foe) IR (Infrared) pitchers meanwhile are affixed to each shoulder pocket which is foldable. This is only visible with night-vision goggles of IR mode. This is to be used in elite forces' tactical scenarios in night operations. These are used by developed militaries, such as the USA and UK for sophisticated military operations.
In the same way, for elbow and knee protection, uniform is featured with multi-layered comprehensive design which allows external hard-type knee pads elbow pads to be inserted and secured and carries slanted pockets with hook & loop closures with a cross armed reach and a three-slot pen pocket on the left arm of the jacket for tactical non tactical uses. Hidden "Drain Holes" are likewise included in all the pockets for wet weather operational use and is comprised of a Velcro closure, patrol cap, a kepi-styled straight-sided, flat-topped soft cap, with a double thick bill and internal pocket. Velcro is also included for name tab which can be worn on the back of the patrol cap as well as the Boonie hat for operational use particularly in dry zones. A Mandarin Collar normally -worn in the down position can also use it in the up position when wearing body armour or when weather conditions compel.
This uniquely-designed uniform has been done using high standard sewing methods with non ferrous items and accommodating 64 bar tags, in addition to the use of internationally-recognized high standard plastic zippers for durability of the uniform. In addition, adjustable buckles and straps are fitted for the trouser and adjustable ones for the uniform shirt for minor adjustments, according to the physical structure of the soldier. This fabric uniform, tested from a world rank fabric test laboratory abroad no doubt would adorn exclusiveness of the CR and SF and elevate the Regiments to new heights and recognition." (Sri Lanka Army)