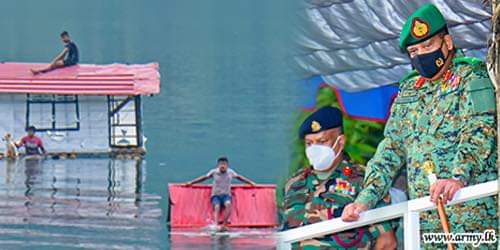 The 'Exercise Lending Hand', elaborate mock demonstration, presented by course attendees in the Basic Disaster Response Course No-7 at the Sri Lanka Army Centre for Disaster Response Training (SLACDRT) held yesterday (22) in the general Kotmale reservoir area.
Adoption of emergency preparations, swift responses, passage to affected locations, communication network, administrative practices, mobilization of respective workforce, selection of best strategic approaches, own safety measures, proper evaluation of the damage/crisis, use of technical aids, structural preventive measures, crowd-controlling, casualty evacuations, minimizing of own risks, provision of immediate first-aid assistance, resuscitation process, safety from external injuries, so on and so forth were among core modules that were visible during their mock demonstrations during the occasion.
The Exercise largely focused on application of principles and theories of disaster responses, management on rescue operations, such as water, confined spaces, landslides, rope, etc and the Exercise setting has been developed under the guidelines given by the Chief of Defence Staff and Commander of the Army under the close supervision of the General Officer Commanding, 58 Division and the Commandant, SLACDRT. It was designed to practice general search and rescue missions, water rescue missions and confined rescue missions and operational aspects and impart knowledge on UN standards for conduct of the camp management systems in the event of disasters, etc.
Over the years, the scope of disaster responses, management & rescue has evolved as one of the most consistent and comprehensive training exercises which transfers and shares invaluable military experiences on knowledge in disaster response and humanitarian assistance for the benefit of future military aspirants in the next generation. The SLACDRT Commandant was also associated with the Exercise in Kotmale area. (Sri Lanka Army)