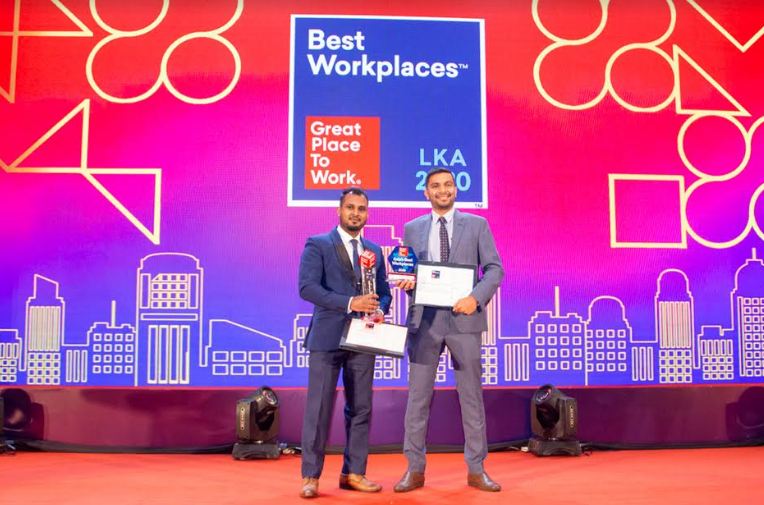 (L-R) Mr. Oman Athukorala – Manager – Human Resources and Mr. Aqeill Subian – Director of Fashion Bug
For three consecutive years, Fashion Bug has been recognized as one of the best places to be employed at, winning the Great Place to Work Award in 2018, 2019 and 2020. Not resting on its laurels, the organization has gone on to win the Asia's Best Work Place, the only local fashion retailer to do so. In addition, the organization was also presented an Award for excellence in Large Enterprises in Sri Lanka 2020, Best Workplaces for Millennials award 2020 and Best places for women 2019. The company was also awarded an excellence award for the Large Enterprise Category in 2020 and was placed amongst the Top 40 companies in Sri Lanka for the year.
At Fashion Bug, the management believes in nurturing and empowering their employees to bring out the best in them. Making various investments in learning and development in order to equip their employees with the right tools, the company ensures that their employees can perform their jobs to the best standards in a way that is mutually beneficial to the organization and the employee.
This year Fashion Bug was honored with the prestigious Asia's Best Workplace Award positioning the company at rank #7 amongst large enterprises in the Asian region. Being the only fashion retailer in Asia to have received this award, the company credits this to their awareness of what is happening in the corporate sector both locally and internationally, while also focusing on what other companies are doing in terms of best HR practices.
Aqeill Subian, Director at Fashion Bug, commenting on receiving this award said, "The team at Fashion Bug consistently focus on implementing the best practices possible. It is a great accomplishment to be ranked as the 7th best place to work in Asia, competing with large enterprises in the region. To be told that we are the only fashion retailer in this category to win this year is a truly enriching experience. We are proud to be a truly Sri Lankan brand to be recognized internationally. The moral boost from this coming out of the COVID pandemic is phenomenal, and rest assured we will work harder to bring pride to our organisation and the nation to be amongst the world's best places to work"
Fashion Bug is also a company that is run by millennials and therefore it is a place that understands what the current generation wants from their place of work. While it is a difficult job to toe the line between freedom for their employees and getting the job done, Fashion Bug maintains a good balance between the two, all tied together by a respect for their employees and ensuring that their goals are all aligned with the goals of the organization. It is for this reason that the company was also awarded the Best Workplaces for Millennials Award 2020.
The secret to the company's success comes from their workplace culture, which believes in providing inspiration at all levels. The management are determined to make a special place for people to work, ensuring that their organization is a place that provides equal opportunities across tiers irrespective of race, religion, creed or gender. This has resulted in the creation of one of their employee inspiration campaigns 'One vision – Many cultures – One Place'. The intention of this initiative is to bring together their employees with a passion to achieve the organization's mission and vision.
However, the company's initiatives don't end there, as the company has many others that ensure that Fashion Bug is one of the most employee-friendly places to work. The organization believes in the value of open communication, which is a key component of their culture, work practices and staff engagement, as the company is always open to hearing what anyone has to say, keeping all channels open – a key element of their success. Fashion Bug also maintains a flexible and overall friendly working culture, which shows all their employees that they are a key member of the company's success and ensures that they are all seen as individual people rather than just staff. As one of the largest enterprises in Sri Lanka, ranked at #7 and having received an Award for Excellence in this category, it is important that the organization remains open to changes and new ideas which could improve their processes to more productive levels, seeing their staff as contributors and collaborators to the company's growth, rather than just expecting them to do what their job title entails.
The Fashion Bug management is built in a way that encourages and provides opportunities for their staff to grow whenever possible, which explains why Fashion Bug is among the Top 40 companies in Sri Lanka for the year 2020. Everyone is rewarded and compensated according to their performance and the amount of work they put in. Accordingly, the management launched a staff motivation campaign with the titles of Yesterday and Today, showcasing their employees who have grown alongside the organization. The company also offers employees flexible work arrangements for study and career development on an individual case basis, encouraging the growth of their employees both in their personal life and work. This extends to their focus on learning and development, which not only focuses on development for their employee's career but also for their personal goals as well, ensuring holistic growth.
Overall, Fashion Bug is one of the most forward-looking companies in business today, recognizing the value of the employee and balancing their employee-centric approach with their sales. With endless opportunities to grow and expand in both professional and personal aspects, Fashion Bug is one of the best places for anyone to work, as everyone is treated with equal respect and given the same opportunity while also being able to share their ideas and thoughts to contribute to the growth of the company.