OPPO is set for Sri Lanka's first ever 'On-line' Mobile Phone launch with F1– With participation of Youth Icons and Top Tech-bloggers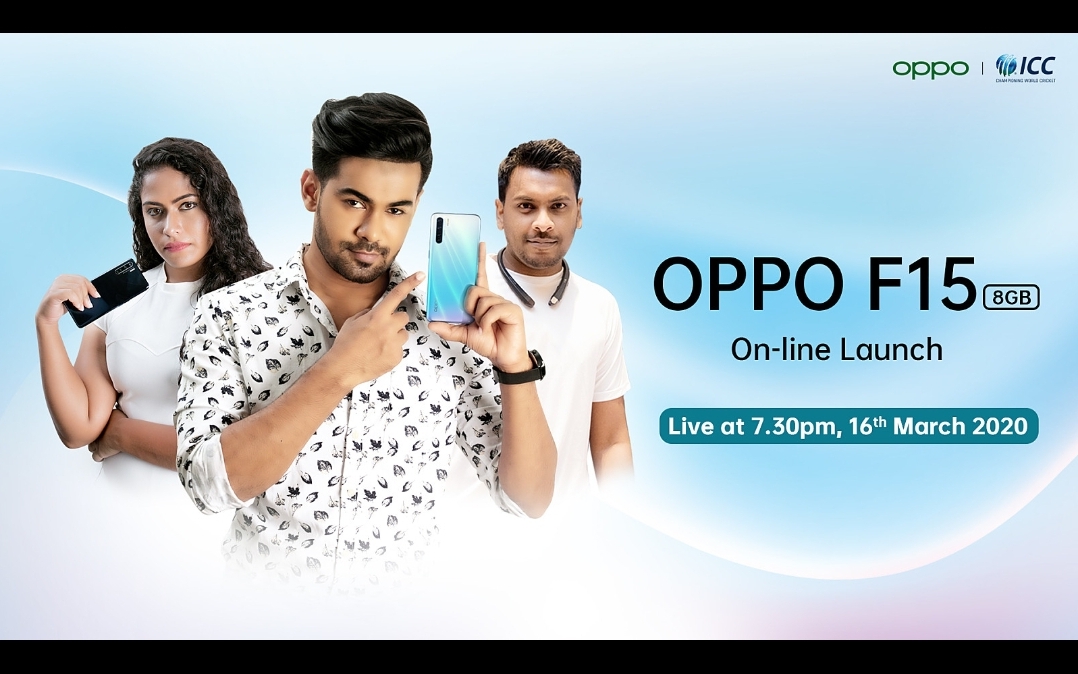 The world-leading smart device brand OPPO announced that the brand will officially unveil its latest flagship model OPPO F15 through an 'on-line' launch for the Sri Lankan market. Hosted on line on OPPO Sri Lanka's official facebook page/ YouTube channel (https://www.youtube.com/watch?v=i3smHlHGG5Y) on the 16th of March at 07.30pm Sri Lankan time, this will mark Sri Lanka's first-ever 'On-line' launch of a mobile phone. 
OPPO has been venturing into many path-breaking initiatives and innovations and the move to unveil OPPO F15 on an 'On-line' launch is yet another revolutionary exercise in the brands vibrant journey. The On-line launch will be a novel experience as it will be represented by youth icons and top tech-bloggers in the country.
"OPPO is very excited about being the very first brand to embark on an 'On-line' launch of a Mobile here in Sri Lanka. This is indeed a path-breaking move as the device to be launched – OPPO F15 is the latest in the popular F Series. We are sharing our joy by rewarding all who share this momentous 'On-line' launch on their own social media platforms with great gifts and surprises" commented CEO, Bob Li.
F Series is known for better visual expression, trendiness, quality, and has won tremendous customers' love in the past. The launch of OPPO F15 marks a new era of the series – following the series' continuous technological advancements based on the markets' needs, embedded with trendy design.
OPPO F15 is set to impress users with lightning speed as it will pack a massive 8GB RAM and 128GB ROM enabling a smooth experience and ample storage.
OPPO F15 will also offer a refreshing professional photography experience right in the palm of your hands as it will feature a 48MP Ultra Wide-Angle Macro Quad Camera, the camera of the highest capacity among products at similar price, to deliver those ultra-professional shots. 
Using its four-in-one-pixel combination technology, its 48MP rear camera sensors are designed to capture sharper images with greater detail. When in Wide Angle mode, you can directly autofocus using Macro as close as 3cm. This improves the image quality for a variety of applications, i.e. food photos, nature and capturing close-ups. Equipped with Electronic Image Stabilization (EIS) with an internal gyroscope, OPPO F15 will come with OPPO's leading Anti-Shake Video. On top of that, the Night Portrait Mode can help you discover a new world of portrait photography in the dark. 
F15 will also be shipped with VOOC Flash Charge 3.0, which can gain a 10% charge in just 5 minutes, and 50% in 30 minutes – 26% faster than VOOC 2.0.
Moreover, the In-Display Fingerprint Unlock 3.0 is said to enable users to unlock the device in 0.32s, which is 45% faster than the previous generation. This new generation of Finger Unlock incorporates improvements at both the hardware and software level. This will not only enable lightning fast unlocking, but it will also increase security through hardware based anti-forging technology.   
Along with the F15, the on-line launch, two other models, the much talked about Reno3, the entry-level A31 and the OPPO branded wearable OPPO Enco Freeheadphones will take be launched. The 8 GB +128 GB ROM Reno3, with a 44MP Ultra Night Front Camera and 48MP Zoom Quad Camera is making waves across different markets whilst the entry-level A31 is packed with great features such as AI Triple Rear-camera, a massive 4,320mAh battery, 4GB RAM + 128 GB ROM with a 6.5" HD+ screen. Breaking new grounds, the on-line launch will be used to unveil the brand-new OPPO wearable, OPPO Enco Freeheadphones which will integrate seamlessly with the smartphone, optimizing every aspect of your day-to-day listening from improved gaming and video experiences.