5 Skills that will help you thrive in the New Norm.
In the new norm and the digital world, do you know what employers want? Do you have the skills that will set you apart from the highly competitive employment market? Here are five skills that will help you rise on top and shine!
01. Technical Skills –
These are a must for any professional even the accountants. Technical skills are vital for numerous reasons. They can help you work more efficiently, boosting your confidence and making you a more valuable candidate for employers. Candidates with technical skills are often more confident when applying for certain industries/ roles than those who don't. In addition, employees with a technical skill are often better at multitasking in a challenging and complex role. With sufficient technical ability, you will be able to speak to colleagues and clients more confidently using your specialist expertise. Technical skills in demand these days include Coding, Project management, Data Analytics, Business Intelligence, Financial acumen and Knowledge of financial reporting as per set standards.
---
02. Business Skills –
Business skills enable professionals to use their knowledge of the business and the ecosystems in which it operates to transform data into insights. This allows businesses to evaluate their strategic positioning, the alignment of their business models to their strategies, their performance and opportunities for the future. In today's day when each aspect of the information out there matters, and consumers make decisions based on social media norms, it is critical for a professional or a graduate to be armed with business skills that help understand consumer and organizational behavior and use this information to promote the success of the company. These skills are primarily important for entrepreneurs, company owners and managers, however, more and more employers look for job candidates who possess a combination of both business and technical skills. Specific examples of business skills in demand include Time management skills, Analytical skills, Negotiation skills, Problem-solving skills, Sales and marketing skills as well as Financial management skills.
---
03 Leadership Skills –
Leadership skills take place at various levels and three such types can be identified as peer, functional and strategic. Peer leadership involves leading peers in and out of the relevant function on issues that require an understanding of the implications of events and issues in the organisation's internal and external operating environments. Functional leadership refers to the leadership that ensures the function delivers its objectives to the organisation. It takes place from the intermediate level onward, but mostly at the advanced level. Strategic leadership is exercised at the strategic level. Experts join with leaders in other functional areas to define, formulate and oversee the implementation of the organisation's strategy. Assuming a position of power can make you a boss but not necessarily an effective leader. In the post covid world, Technology competence, effective communications, merging tech and leadership as well as adaptability in the VUCA world are critical leadership skills alongside the time respected skills of relationship building, trust, emotional intelligence and empathy.
---
04 People Skills –
People skills and the ability to communicate effectively are used to influence the decisions, actions and behaviours of decision-makers and others throughout the organisation and its stakeholders. The post COVID world saw a lot of collaborative work done by organizations and thus the ability to collaborate and work with partners is also a key skill. Critical attributes here would be in addition to Collaborating and partnering, influencing internal and external relationships, negotiation and decision making as well as communication across organizations and using various tools in that process.
---
05 Digital Skills –
Digital skills are essential for all professionals and especially those in finance, from basic digital literacy through to a deeper expertise in cloud computing, cybersecurity, data analytics and digital costing. For all professionals to remain relevant, they need to keep pace with advances in technology and be able to manage and guide their respective functions in a digital world. In the post COVID world it is imperative that businesses and even governments must digitize their operations and coordinate their activities to enable business continuity and build resilience for future crises. Aside from the simple WFH arrangements, technology can do wonders for the professional of the future and the right digital literacy, skills and mindset is of critical importance. Ability to use RPA to automate repetitive tasks and to use AI for business success – these aren't just buzzwords anymore but knowledge and skills that employers look for.
The CIMA Professional Qualification is based on the CGMA Competency Framework which covers all of these skills in adequate depth. For those keen on checking the status of these skills – take the CIMA Business Game and see how you fare.
CIMA Business Game 2020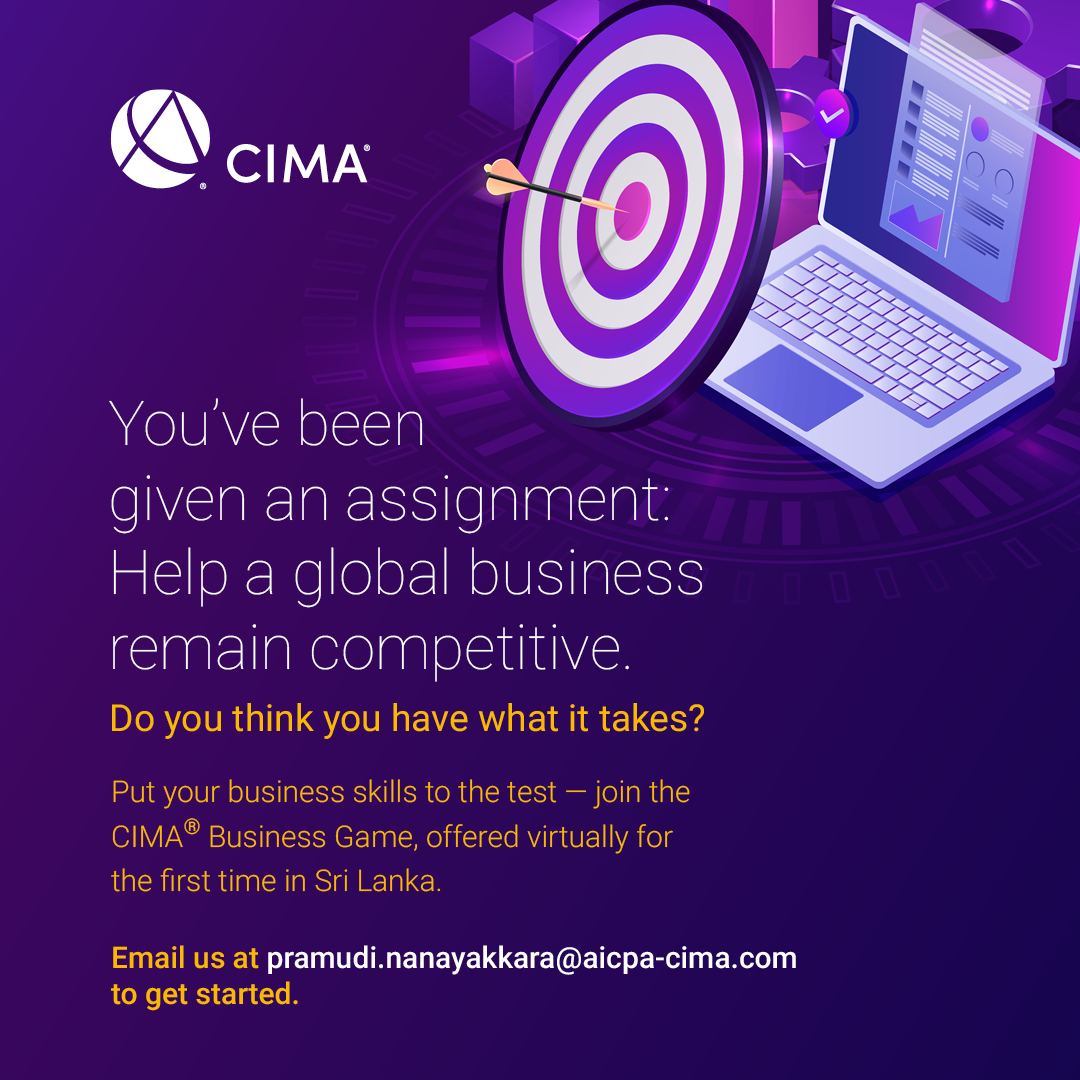 Put your skills to the test with the CIMA Business Game, offered virtually for the first time in Sri Lanka. You can now experience a corporate business scenario right in the comfort of your home! In the game, you play the role of a management accountant or business partner that is tasked to help a fictitious company, recommend strategies that can help them stay competitive in the markets they operate in.
You will develop analytical acumen, problem solving skills and the commercial awareness you'll need to enhance your employability and position yourself as a strategic business partner to your company or any company you are hoping to join.
Upon passing the game, you will receive a CIMA Business Game certificate and gain an enhanced understanding of business, finance and the role of management accountants in society. The CIMA Business Games are a great way to test if your skills are up-to-date and keep abreast of the constantly evolving business environment.
If this is something you are interested in taking part, get in touch with kith.perera@aicpa-cima.com or pramudi.nanayakkara@aicpa-cima.com for more details on how you could enroll and get cracking at testing your business skills.
The Business Game is available free of charge for any students and for all employees of CIMA Corporate Partner and Top Employer organizations. For others, there is a minimal fee of LKR 1000 for the certification.