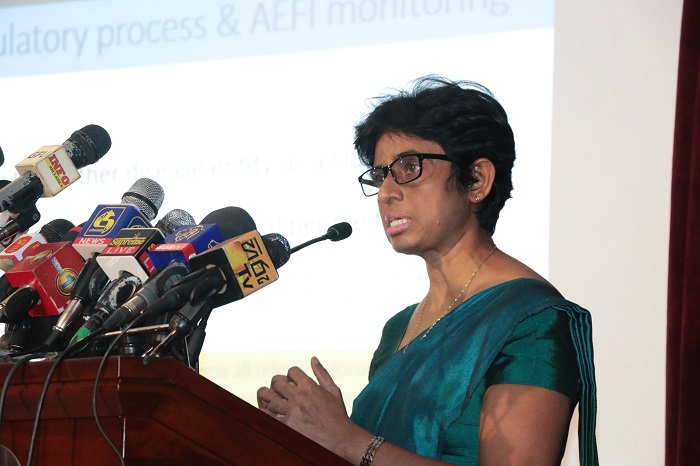 By Dr. Deepa Gamage – Consultant Epidemiologist
There are a few COVID-19 vaccines which have completed the Clinical Trial Stages and are now being used in some countries including the USA, the UK and Canada.
Vaccine efficacy and safety are the most important factors to be considered in the Sri Lankan scenario during the process of vaccine introduction. Efficacy means, how many people can be protected by giving that particular vaccine through developing protective level immunity. Safety means, the vaccine should not give rise to another disease entity being a side-effect of giving the vaccine as these vaccines are given to normal people for protection from COVID-19.
Another important factor to be considered is that how long the developed protective level immunity will last and provide adequate protection from COVID-19, after administering the recommended number of doses. So far, the vaccines which have come to the market give adequate protection for about a year after giving 2 doses.
In order to give adequate protection from the given vaccine, it needs to be kept at a recommended temperature from the manufacturer until administering that particular dose of the vaccine to a person. Optimal conditions of storage are crucial for the maintenance of the potency of the vaccine. This means protection of the quality of the vaccine after development. If the potency of the vaccine is not maintained by storing at recommended temperature, expected level of protection from the vaccine will not be achieved and secured.
Safety of the vaccine is a main consideration in vaccine introduction to Sri Lanka. National Medicinal Regulatory Authority (NMRA) takes all precautionary measures in giving registration for that particular vaccine in the country. In that endeavour, independent experts including the Epidemiology Unit of the Ministry of Health and the Vaccine Quality Unit at the Medical Research Institute (MRI), review all relevant details provided to the NMRA as dossiers, in which all details of the vaccine product information, problems encountered in using such vaccine/s, all side-effects and their impact are reviewed before registering the vaccine/s in the country.
Different COVID-19 vaccines are required to be stored at different temperatures to maintain vaccine potency. The first vaccine which completed clinical trials and is now being used in USA – "Pfizer BioNtech" vaccine, is required to be stored at -700 The other USA vaccine Moderna is required to be stored at -200C. There are other vaccines such as AstraZeneca vaccine and Sinovac vaccine which are in the process of being released to the market, which can be stored in a standard vaccine storing refrigerator at 2-80C.
In our country, all National Immunization Programme vaccines are stored at 2-80C, in cold rooms and in specialized vaccine storing refrigerators called "Ice Lined Refrigerators" in which proper cold chain is maintained in order to protect the effectiveness of vaccines. Vaccine storing facilities of 2-80C are available throughout the country.
This vaccine storing cold room facilities are available at main vaccine stores in the Epidemiology Unit and in all other districts while Ice Lined Refrigerator facilities are available in all Medical Officers of Health (MOH) offices and in hospital vaccine clinics.
At the moment, it has been identified that the vaccines already developed and available for use need 2 doses to be given to secure adequate protection.
Cold chain storage facilities for maintaining vaccine potency, number of doses required to be given for adequate protection, vaccine safety concerns and vaccine acceptance by receivers are important factors that should be considered in Sri Lanka in implementation of vaccination to gain adequate coverage in the country.
As with new vaccine development, the Global Alliance for Vaccine Initiative (GAVI) which is an institution supporting low and middle income countries for vaccines and vaccination, formed an innovative approach through a "COVAX facility", together with World Health Organization, UNICEF, World Bank, Asian Development Bank and with other financial partner organizations, aiming to support low and middle income countries receiving vaccines without any significant delay.
Countries are offered the opportunity to receive vaccine stocks for vaccination of 20% population, through this COVAX facility. Countries are requested to submit an application, which Sri Lanka has already submitted on time in December 2020, expressing interest to receive vaccine stocks.
Priority groups for vaccination and preferred priority vaccine product specifications have already been identified in this application. The priority groups identified for initial vaccination are elders, persons with comorbidities, frontline healthcare workers and other workers involved in COVID-19 control and prevention as well as economic and socially important categories.
This is considered as the state's commitment to receive COVID-19 vaccine stocks at the earliest opportunity through COVAX facility while considering the sustainable receipt of vaccine stocks on an annual basis.
However, Sri Lanka has a "National Immunization Policy" which is approved by the Cabinet of Ministers in 2015, where the process of new vaccine introduction is clearly identified.
There is a Technical Expert Committee functioning in the country for recommendations for vaccines and vaccination called "National Advisory Committee on Communicable Diseases", in which experts get together to review existing evidence for decision making regarding new vaccine intr anyoduction.
The Epidemiology Unit has already been identified as the main vaccine implementation, monitoring and evaluation agency on behalf of the Ministry of Health, through the National Immunization Policy of the country.
The country has a strong professional academic organization for Medical Officers called "The Sri Lanka Medical Association (SLMA)", representing all member medical officers including different medical specialities. SLMA identifies necessary strategies to provide advocacy and suggest to the Ministry of Health regarding crucial issues as they rise including communicable disease control and prevention and vaccination. During this outbreak of COVID-19 too the SLMA has come forward to identify priority groups for vaccination. The identified and agreed priority groups by SLMA are on par with the priority groups identified by the Ministry of Health, in which elderly population, those who are with comorbidities, front line healthcare and other workers who are involved in COVID-19 control and prevention, important staff at ports of entries, and important special categories with high gatherings are identified as priority groups for the vaccination.
Sri Lanka is ready for the deployment of an efficacious and safe vaccine against COVID-19 upon satisfying vaccine implementation feasibility to maintain potency of the vaccine and in line with proper vaccine regulatory approvals as recommended by the National Advisory Committee on Communicable Diseases of Sri Lanka. (NewsWire)