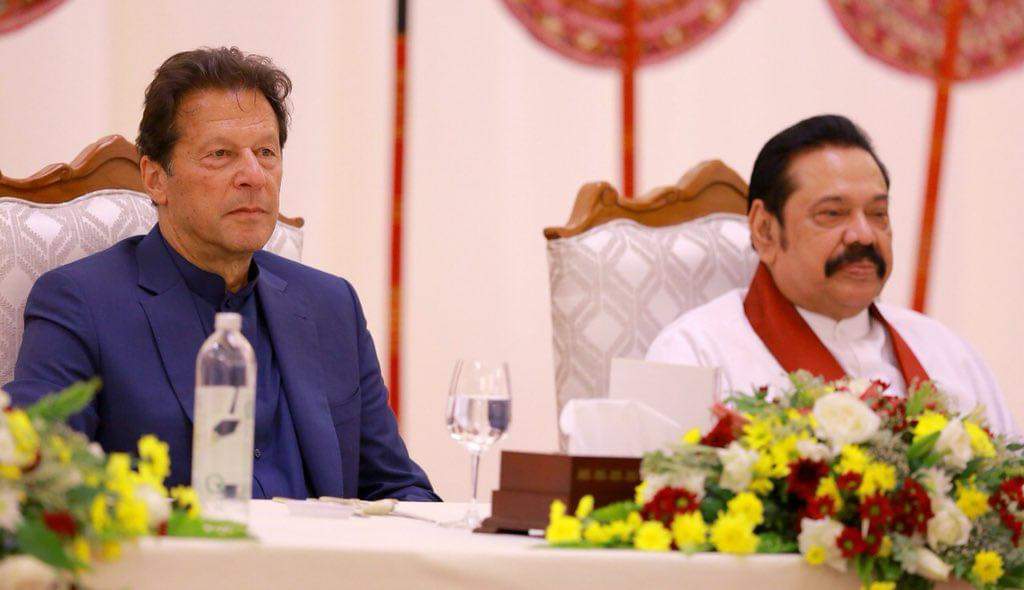 By R R M Lilani
One time reputed cricketer and now the Prime Minister of Pakistan, Imran Khan is in the foray of playing a different ball game – inviting the island leadership to join the China-driven China-Pakistan Economic  Corridor (CPEC).
Imran Khan has tried to bring harmony between India and Pakistan after February 14, 2019, Pulwama terror attack and the Balakot airstrike that India carried out. He had sent a peace message to PM Modi. His diplomacy has seen to be 'so far so good'.
It's vital to remember that Khan's visit to Sri Lanka can be crucial for Pakistan as Pakistan has been a close associate of the United States of America especially during former President Musharraf's time. Pakistan and the US played a crucial role in ousting Osama Bin Laden who terrorized not only Pakistan but also, the US who set the deadliest mission to strike on the World Trade Centre in 2011.
In Colombo at the Trade and Investment Conference held on today (Feb 24), Khan said that he had reached out to the Indian Prime Minister Modi and spoke to him about settling differences but he didn't  understand. "I am optimistic and that sense will prevail," he added.
He further noted that Pakistan can also play its part to ease tensions between the US and China like how Pakistan has done in the past.
But that engagement by Khan has to be maintained separately without dragging Sri Lanka as it is already etched its displeasure in promoting the US's agreement such as ACSA, SOFA and MCC and yet trying to continue its close ties with the US.
Also, Khan has not given his thought about China-Sri Lanka-India tension. His visit to the island shows he has given importance to China to promote Pakistan trade, whilst Sri Lanka is in deep geopolitically mooted  trouble ever since it embraced China, a non-entity in the Indian Ocean Region.
Khan has urged Sri Lanka's leadership to join the (CPEC), which is part of the trouble-stirring Belt and Road Initiative (BRI) of China that led Sri Lanka to fall into a deep debt crisis.
Khan at the Temple Trees on February 23, noted that Pakistan being part of the BRI of China, would want to see how trade and connectivity with Sri Lanka could be enhanced by joining the CPEC which is a flagship project of Pakistan. He invited Sri Lanka to connect through CPEC right up to Central Asia to boost trade benefit. There is no business booming for Sri Lanka having embraced China's BRI from the year 2014 onwards. Sri Lanka is still suffering to revoke the ad hoc agreement with China over awarding the Hambantota Port for a 99-year lease that can run to another 99 years lease.
The current government already expressed its worry that there is no business and the port is 'idling' remaining a fortress of China, with no investors turning up there.
China, on the other hand, has been discouraging certain flagship project earmarked for Sri Lanka by the US-Canada energy project to enter the port. China could only invite another Chinese to do a mega tyre project located in the Hambantota Port area.
Despite China is known to be a growing economy of the world, they have been despised by many powerful countries for the way 'they do business and that has been explicitly seen in Malaysia, Bangladesh, Djibouti and in the African Continent.
On seeing how Sri Lanka was trapped by China that grabbed lands for long lease when unable to repay its debts, for many countries, Sri Lanka is an 'eye-opener' on how not to be trapped and how to do business with China.
In this backdrop, Pakistan, that has succumbed to unprofitable Chinese ventures has come forward to support Sri Lanka through CPEC, is questionable.
Pakistan is the latest nation struggling to repay Chinese loans extended under BRI, with indications emerging that Islamabad will soon seek to reschedule as much as $22 billion in outstanding power sector credits.
The so called CPEC is China-centric maritime trade boost and Pakistan can benefit in the long run but this connectivity for Sri Lanka can be a far cry at least for the next decade or so.
Politicians should not make political blunders as they are not the permanent body to decide the country's future and any move should be taken by a visionary, not a 5-year term holding short-sighted politicians.
So, the question is, was the visit of the Pakistani trade delegation of 50 persons led by Khan to Sri Lanka, to offset India?
Pakistan has come to 'rescue' Sri Lanka from its nose-diving economy, at a time when India is trying to sort out its displeasure over the East Container Terminal (ECT) and lately awarding the northern island wind power project to China.
India has been offered the West Container Terminal in the Colombo Port instead of the ECT. India is currently, holding discussions on these matters.
Freelance journalist and researcher based in Colombo ( Writer can be reached on rrmlilani1@gmail.com )