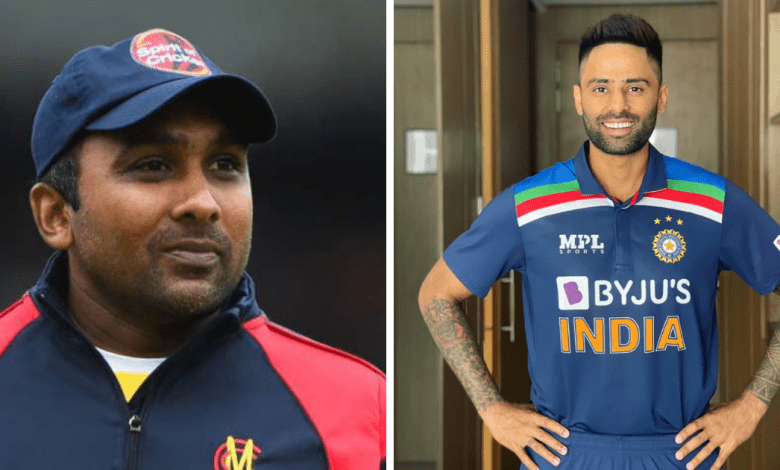 Swashbuckling white-ball batsman Suryakumar Yadav has revealed how a brief chat with Mumbai Indians head coach and Sri Lankan legend Mahela Jayawardene helped him revamp his powerplay game.
Yadav, who made his debut for the Mumbai Indians in IPL 2018, was primarily a lower middle-order player when he played for Kolkata Knight Riders and so when he was assigned the role of batting in the top-order by the Mumbai Indians, he initially found it difficult.
But a discussion with Mahela Jayawardene during IPL 2018 helped Suryakumar Yadav by leaps and bounds. According to Yadav, Jayawardene had asked him to focus on finding the gaps and rotating the strike as much as possible.
"In 2019, he sat with me and explained it to me… what I should do in the powerplay and what I should do after the powerplay. Obviously, he wanted me to be a better cricketer at that moment and contribute more by being a little more smarter. So he just sat with me and he was like it's upon you completely. He said only one thing, whenever you're batting after the powerplay, just try and hit a lot of gaps, take twos, run hard between wickets and the strike rate also will be amazing. So I just did the same thing," Suryakumar Yadav said in an exclusive interview with the Indian Express.
When asked if the Mumbai Indians thinktank also helped him improve his off-side game, Suryakumar Yadav responded in the negative. He, however, added that he had to keep on improving and tick all the boxes in order to counter the opposition's plans.
One of the hallmarks of Suryakumar Yadav's batting is his ability to play both pace and spin with equal disdain.
Against spin, his go-to stroke is the sweep shot, which he revealed, he has mastered by playing on turning tracks on local grounds from an early age.
"The sweep was always there, because where I used to train there used to be a lot of turning tracks. To counter that I had to do something different. So right from the age of 14-15, I started playing sweep strokes. Slow and steady, maar maar ke aur aadat ban gai. Abhi mazaa aatha hain, shot khelne mein. I love it. (by playing it often, it became a habit. Now I enjoy playing the shot)," said Suryakumar Yadav. (Indian Express)