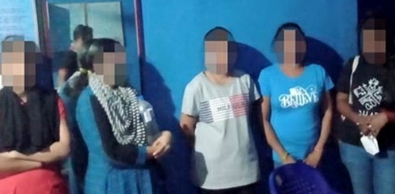 A special operation carried out by the Navy in Kondachchikuda, Silawathura made way for the apprehension of 20 individuals whom were suspected to have attempted to illegally migrate to a foreign country by sea on 06th April 2021.
The apprehension was made by the Northwestern Naval Command, after having searched 04 suspicious three-wheelers at the Kondachchikuda roadblock in Silawathura. The subsequent interrogation suspected that the 20 individuals in the three-wheelers were on their way to the Silawathura sea area with the intention of migrating to a foreign country via sea routes. Incidentally, the group of individuals and 04 three-wheelers were taken into naval custody.
Among the apprehended individuals were 14 males, 04 females, a 13 year old girl and one 16 year old boy. The accused were residents of Mullaitivu (09), Jaffna (04), Mannar (04) and each from Walachchani, Wattala and Puttalam areas. The Navy also suspects that a person who devised this illegal migration attempt is among the group apprehended.
The group of accused and the 04 three-wheelers in which they travelled were handed over to the Silawathura Police station for onward legal action. Similarly, the Navy nabbed a group of people whom were suspected to have attempted to illegally migrate from the country on 11th March 2021 as well. Accordingly, the Navy will continue to conduct operations to thwart such attempts by a handful of people. (Navy)