CareStation, a social welfare organization at the forefront of aiding and supporting families during times of crisis, raised over 2.3 million Rupees for the COVID-19 specialised treatment unit in Welikanda, Polonnaruwa.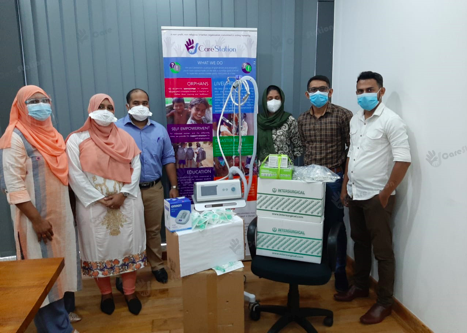 Dr.M. Ishfak and Dr. Sumaiya Hamsudeen of the COVID-19 specialised treatment unit, reached out to CareStation requesting for urgent assistance due to the overwhelming surge of cases caused by the third wave. The hospital critically needed the funding and equipment to treat the thousands of patients that needed medical treatment.
Turning to the community and in times of social distancing, the funding of the project was carried predominantly on social media, leveraging the reach of the platforms. Instagram Live sessions were organised by the founders of CareStation, Razni Razick and Khalib Cassim, in collaboration with Dr.Ishfak of the COVID-19 specialised unit. These discussions were used to raise awareness about the dire situation and urgent need for the equipment at the hospital.
CareStations dedicated efforts to raise awareness and advocate for this cause resulted in the successful contribution from individual donors, organizations and online communities. Expo Lanka (Pvt) Ltd. made an incredibly generous donation of funds to purchase the High-flow Nasal Oxygen Unit, equipment critical for saving the lives of the patients in the COVID-19 unit. Community members rallied around this cause, like Local Forecast, a platform for artists, who used the sale of their digital arts to gather funds for the project. Donations were also made by individual artists, through the platform Fearless Immunity.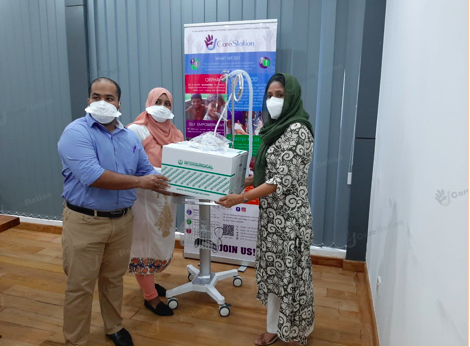 The combined efforts of these compassionate individuals and organisations, supported the collection of over 2.2 Million Rupees in funds. These donations enabled the purchasing of High Flow Nasal Oxygen unit, CPAP masks, NRB masks, Multipara Monitors, syringe pumps, catheter mounts, digital BP Meter and digital infra-red thermometers. These equipment are considered critical to the saving and recovery of patients affected by COVID-19.
CareStation, with their dedicated team and donors, were able to support a hospital that desperately needed the specialised equipment to continue its resilient fight against COVID-19 and help the lives of patients affected. Dr. Ishfak and Dr. Hamsudeen shared their immense gratitude to everyone that contributed and quoted 'thousands of patients will be thankful and be sending their prayers'.
CareStation continues their pursuit for social welfare and aid, being at the forefront of providing food packs and relief aid for all who were affected by this pandemic. CareStations projects also provide self-empowerment projects, educational scholarships and livelihood support for those in need.