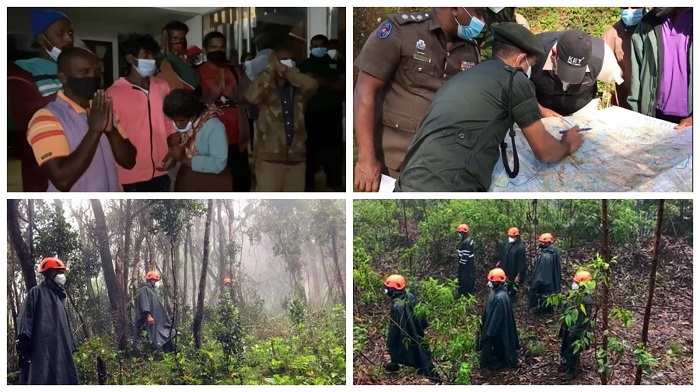 A 25-year-old woman who was reported missing while collecting firewood at Dunsinan Estate in Nuwara Eliya has been found following a combined operation conducted by the Sri Lanka Army and Police.
Issuing a statement, the Army said a group of 22 Army personnel, including two officers of the 3 Sri Lanka Sinha Regiment, engaged in a combined search with the Police Special Task Force and Estate workers.
J. Balan Kathmuna Tharani was reported to have gone missing since Sunday (5) afternoon while collecting firewood with her mother.
She was, however, found last evening (9) around 6.30 pm and had been immediately admitted to the Nuwara Eliya Hospital for treatment.
The Army said the missing woman was found completely dehydrated and lying on the ground when search teams reached her despite inclement weather patterns and dense jungle areas. 
The woman, who is a resident of Bambarakele, Aluthkolaniya, Shanthipura along had been reported missing despite her mother's initial efforts to locate her. 
On being informed of the missing woman, a combined Special Search Operation was launched within hours and had continued with the support and guidance given by estate workers, with members of the search teams joining the mission from time to time during the past 4 days. 
The Army said the entire rescue operation was commanded by the Commanding Officer of the 3 Sri Lanka Sinha Regiment under the command to the Headquarters of the112 Brigade on the directions of the GOC, 11 Division, Commander 112 Brigade, and the Commander, Security Forces – Central. 
Further investigations into the incident are being carried out by the Nuwara Eliya Police Station. (NewsWire)