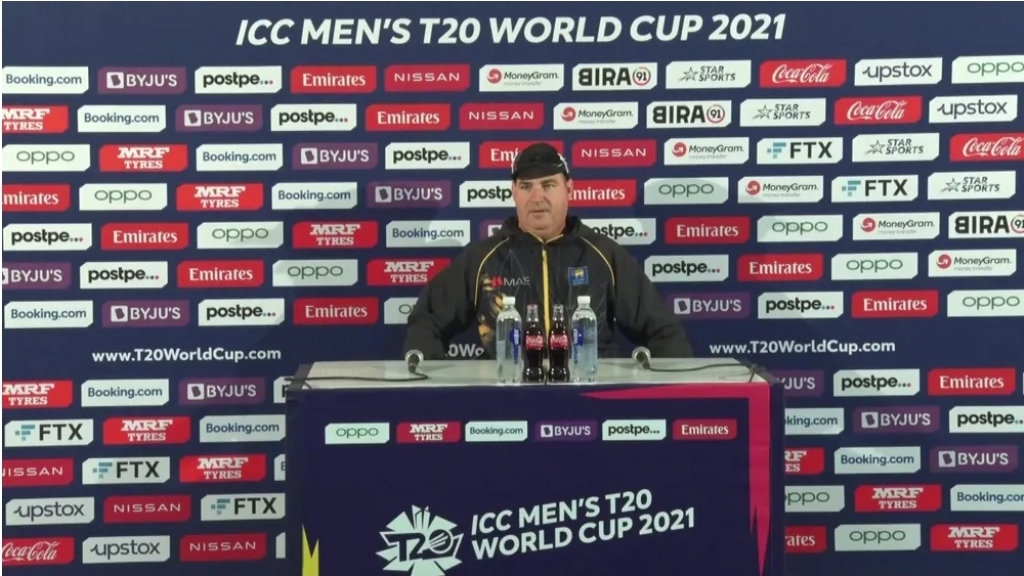 19 October – Abu Dhabi – Sri Lanka's Mickey Arthur (Coach) pre-match press conference
MICKEY ARTHUR: We're very lucky we've got two very good mystery spinners, if you like, and a couple of very good spinners that aren't playing at the moment.
For us to have two bowlers of genuine quality bowling at 145 Ks an hour, that makes a massive difference. We know that any team doesn't like facing them. They're genuine wicket takers. Their skills have gotten better and better over the last five months. So we're really comfortable having them attack for us. Dusmantha Chameera has, I feel, gone to another level. He really has. He's now genuinely world class.
So for us to have those bowlers in our bowling lineup gives us a real good balance of picks. Chamika brings a little bit of swing, and then we've got our two wrist spinners. It's almost the ideal bowling attack, if you like.
Q. Following up on that same question, how much do you think dew will play a factor considering the pitchers will give some assistance to the seamers with the conditions, and how much will it affect Sri Lanka's chances of bowling first in most of the games?
MICKEY ARTHUR: Look, it does come into the equation. Certainly when we discuss our strategy before the game, we come out the night before and check the amount of dew. There was a fair amount.
Look, I don't think it's impossible if we have to bowl second. We've prepared that way with our bowlers, with wet balls. We'll be prepared, and we'll be ready. I think it might play a little bit of factor. Once the wicket cools down and it just gets a little bit of moisture on it, it just tends to come on a little bit nicer as well.
Q. Top three a concern from the last few games with the Oman games and the warmup games, they've not fired at all?
MICKEY ARTHUR: Yeah, I'm pretty confident with Kusal Janith back at the top of the order now. That just gives us that attacking option. Kusal Janith is a world class player. To have him back there gives us a lot more solidarity, if you like. So I'm comfortable that he's going to fire for us pretty soon.
Pathum Nissanka, he's a work in progress. He's the one Sri Lankan batsman in my time in Sri Lanka that I think is going to go on and genuinely become a world class player for Sri Lanka. So we'll keep going with Pathum because we're investing in him going forward.
Then that No. 3 position has been an Achilles heel for us ever since we lost Danushka, Kusal Mendis, and Niroshan Dickwella. We've battled to find the right balance in our top five. I'm comfortable we've got that balance. If we can just get that No. 3 position shelved down, we'll be good.
Dinesh Chandimal has it at the moment. Hopefully, he gives us a performance at some stage. We've got young Charith Asalanka, who I think is another young player that's going to play a lot for Sri Lanka, just waiting in the wings. I'm just waiting for someone to grab that position and make it their own.
Q. You took a few people by surprise by having Avishka at No. 4. Can you tell us the thinking of having him at No. 4. Is there something you're looking at long term in the white ball format?
MICKEY ARTHUR: I think I mentioned it at the last press conference. We did a brainstorming session as coaches. Mahela was with us at the time. We looked at stats. We looked at our batting order. We thought how do we make it stronger? How do we balance the power? Thinking that we were going to get Kusal Janith as well at the top of the order?
We looked at what fit, and it kind of fit in our opinion with Avishka at 4. Strike rates tell us he plays a lot of dot balls early on in his innings, and that's because the field's up. So him coming back with the field spread out has given us a little more chance to get himself in. Then from there, he's almost unstoppable. So once he gets past 15 balls, he becomes a serious player strike rate wise. So we just thought there was quite a good fit.
I think he'll still open for us in ODI cricket without a doubt, but we think we found a really good position for him in Twenty20 cricket, and he's been really superb in that position of late.
Q. Mickey, are we expecting any changes in the top three tomorrow?
MICKEY ARTHUR: No, we've got a settled combination at the moment, and we'll go with that settled combination tomorrow.
Q. Given the experience Dinesh Chandimal has had in international cricket, where do you think he has gone wrong? Why is he struggling in this format?
MICKEY ARTHUR: Look, I think he's — to be brutally honest, Dinesh, Charith Asalanka, Kamindu Mendis, those type of guys, have real opportunities to a point because of our three players that back our band. Chandi is a very, very good player, and contrary to a lot of the stuff I'm reading about him, he is a fine, fine batsman. He's just short of a little confidence at the moment, but I'm comfortable that he will regain that.
When he does — he played an innings in the practice game before we came over here. We had three practice games in our camp. He faced a really good attack. Dushmantha Chameera wasn't there, but he had Binura, he had Chamika, he had Akila and Maheesh bowling against him, and he got 84 out of 48 balls and really played very, very well.
That all late to us because we selected Chandi in the squad as a reserve keeper. We needed to have two keepers in our 15. We thought he fit the ball with that. He has a bit of experience, our second keeper. He was the desirable player for that position. But when we watched him bat there, he batted superbly. He hit proper cricket shots, and he hit them well, he hit them hard. He cleared the boundary straight a lot of times.
So if we can recreate that confidence for him coming into World Cup games, we feel we've got a win. I think you mentioned the word earlier when you asked the question, experience. We haven't got a particularly experienced top five. So for him, the thing that gets him in there is his experience, and that's what lent us to go with him in Game 1.
We'll give Chandi another run without a doubt. We know that Charith Asalanka is there waiting for his opportunity as well. One thing we've done is we've developed bench strength in all positions. I'm comfortable that Chandi is one innings away from showing us potentially what he can do.
Q. We saw him with you trying him out as an opener during that series. What sort of role have you given him at No. 3?
MICKEY ARTHUR: Look, he opened, and opening, to be fair, is probably his best position, but he was under no illusions that, when Kusal Janith Perera came back, that was KJP's position, and that got him in the games in the South African series was the fact that KJP was injured. So he was under no illusions to that.
We kind of like that balance with Kusal Janith going fairly hard. It allows Pathum to play his game the Pathum way. I was disappointed with how he got out last night. We had a chat about that today. I want to see Pathum hitting straight down the ground because when he hits straight down the ground, that's when he plays his best.
Then Chandi is in that position with experience to kind of continue the work that either Kusal Janith or Pathum's done. The last thing we wanted was to have two inexperienced players, Kusal Janith getting out early and having two inexperienced players batting in the power play overs. That was the last thing we wanted.
So that's what got Chandi the go, and we back Dinesh Chandimal. I back him as a batsman. I back him as a player. I'm just hoping that tomorrow he gives us what we know he can give us or what I saw from him in that practice game.
Q. You put a lot of effort in the last four months leading up to this tournament, but you've been very unfortunate with the injuries and stuff like that. I'd like to ask. A lot of people don't seem to be rating the Sri Lankan side so much. Have you got any message for that?
MICKEY ARTHUR: Look, all I can say is that I see these boys train, I see these boys work, I see these boys put their efforts in behind the scenes. We are as professional as anybody in the competition.
I thought our bowling performance last night was exceptional. That bowling performance last night was as good as any bowling unit in this competition. I think our fielding standards have gone to another level without a doubt. If we can just get our bats firing, we're going to be very dangerous.