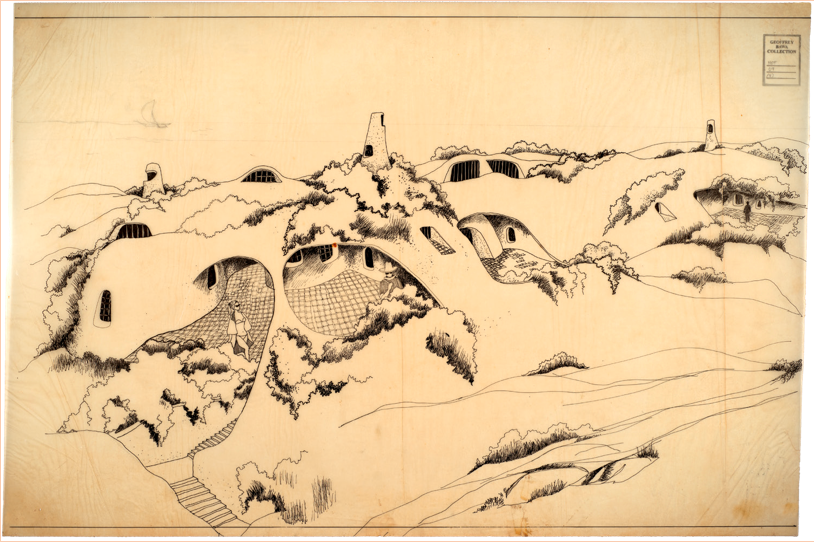 February 1, 2022 – April 3, 2022
Park Street Mews, Colombo
The Stables, 48 Park Street,
Colombo 00200, Sri Lanka
Hours: 11 a.m. – 7 p.m. everyday; see our website for special tours, talks and other events. The exhibition is free and open to all. It will be presented in three languages; English, Sinhala and Tamil.
It is Essential to be There website: The exhibition in Colombo will be accompanied by a website with previews, additional content and programmes, launching December 15, 2021.
bawaexhibition.com instagram.com/geoffreybawatrust facebook.com/geoffreybawatrust
Geoffrey Bawa: It is Essential to be There is the first major exhibition which draws from the archives to look at Bawa's practice. Organized in four thematic sections, exploring relationships between ideas, drawings, buildings and places, the exhibition explores the different ways in which images were used in Bawa's practice. Over 120 documents from the Bawa archives, most of which have never been shown publicly previously, will be on view, including a section on unbuilt work and Bawa's own photographs from his travels.
Geoffrey Bawa's distinct practice as an architect began with the purchase of an abandoned rubber and cinnamon estate, which he would transform into the garden that is now Lunuganga, in 1948 – in the wake of the country's newly gained independence from the British Empire. From this very first project, Bawa's oeuvre is marked by architecture that seeks to understand the notion of place. In a practice so attuned to the generative aspects of place, drawings play a complex role. These works show the particularity of each project's location and the explorations undertaken by the practice to explore site across the many layers of culture, history and environment that characterize a place beyond its position on a map.
Although Bawa's work has been exhibited at multiple venues in the UK, USA, Australia, India, Brazil, Singapore and Germany, this is the first exhibition on Bawa's work to be shown in Sri Lanka. The exhibition is curated by the Geoffrey Bawa Trust's curator Shayari de Silva, and includes new photographs and video works by Sebastian Posingis, Dominic Sansoni and Clara Kraft Isono.
The Geoffrey Bawa Trust is a non-profit, public trust that was established in 1982 by the late architect, with the objectives of furthering the fields of Architecture, the Fine Arts and Ecological and Environmental Studies.
This exhibition received generous financial support from the primary partner Kohler, local partners Nations Trust Private Banking and Crystal Property Group, JAT Holdings and venue partner Park Street Mews.