Factum Perspective: India lends bigger hand to Sri Lanka's economic crisis amid ratings downgrade
By Shihar Aneez and Omar Rajarathnam
A day without power cuts is now a breaking news story in Sri Lanka which is facing precarious economic instability. The common citizen is unsure what to make of the financial chaos with its government running low on dollars and money to run the country. Excessive money printing has shot up inflation, cost of living, and caused downward pressure on the rupee. Global rating agencies Fitch and Standards and Poor's (S&P) say the country is on the verge of a possible sovereign debt default. China is unconditional in its rescue effort. The surprise player is India who is lending bigger hand. How so and why now?
The regional power has generously promised a $1 billion credit line for food and medicine, another $500 million fuel credit line, and a $400 million swap with the Reserve Bank of India. India has also helped the island nation to defer a $515 million payment to Asian Clearing Union by two months. India won't repeat mistakes of taking for granted geo-strategic Sri Lanka's economic anymore. The Colombo Port City Project which put China on the radar of Sri Lanka's grassroots was one that the Rajapaksa government had initially offered India to only receive a lukewarm response. It has also perhaps dawned on India that the West-led bogeys of Chinese projects in Sri Lanka have not turned the tide in the West's or India's favour which have not put money where their mouth is. In addition, the India Out campaign has gained steam in Maldives after former President Abdulla Yameen was released from prison in late 2021. Letting Sri Lanka fend for itself or off the hook when it is most vulnerable could push helpless Sri Lanka tighter into China's arms and mitigate the impact of its energy security interests with the Trincomalee oil complex agreement as well as the cultural diplomacy gains Yohani managed to bring in.
The Indian High Commission on 16 January put out a seven point press statement which detailed its support to Sri Lanka. The fact that its High Commissioner Gopal Baglay cancelled a meeting with Sri Lanka's coalition Tamil parties early this week to go to Delhi and bring news of the assistance package to the central government indicates the priority it attaches to Sri Lanka's economic woes and how the China factor in Sri Lanka is compelling India to act in a faster, bigger and visible manner.
Despite Sino-Indian support, President Gotabaya Rajapaksa's ruling Sri Lanka Podujana Peramuna led coalition which has a two-third parliament majority lacks coherent long term economic policies. This has aggravated a debt and foreign exchange (forex) crisis. Defiant duo, the Governor of the Central Bank of Sri Lanka Ajith Nivaard Cabraal and Finance Minister Basil Rajapaksa are taking an economically tone-deaf approach to the issue by nearly denying there is anything to worry about.
The governments nonchalant image amid the crisis with staged online press conferences where moderators throw prepared question at the Governor Cabraal who waxes eloquent on why the rating agencies ''are so wrong about Sri Lanka'' is bound to fix nothing. Below is a snapshot of how Sri Lanka precipitated in its ratings since April 2020.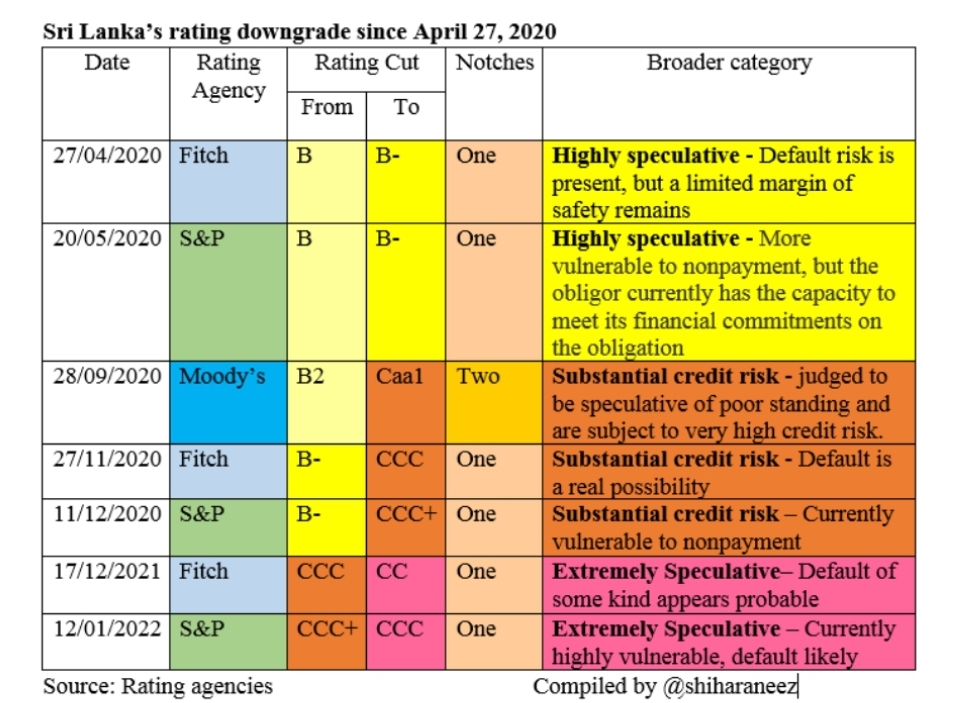 The Cabraal-Rajapaksa combo should ideally address Sri Lanka's core economic issue – the fiscal imbalance that results in the government spending more than its revenue and a current account deficit which has recorded more foreign currency outflow than inflows. Somehow, they have opted for optics over sensibility.
Failed Policies
Import restriction to preserve US dollars has failed to prevent foreign currency outflows and threats of legal action against illegal remittances via hawala and undiyal channels has increased off-market transaction because families of Sri Lankan migrant workers get around 250 rupees per dollar instead of central bank's fixed 200 rupees per dollar and caused the island nation's monthly remittances to plummet by 60 percent in December 2021 when compared to the previous year.
Excessive money printing to maintain artificial low interest rates has resulted in double digit inflation. People are losing out on their deposits because inflation stands at approximately 4 percent higher than the risk free Treasury bill rate of 8.45 percent. This has increased imports in 2021 as import cost hit a five-year high of $21.5 billion despite restrictions on vehicle imports.
Many analysts note the government's fixation on its popularity than making bold policy measures to put the island nation's economy on a sustainable path. The Government's hesitance to seek IMF assistance, raise taxes, reduce unnecessary government expenses, refrain from off-budget relief packages, and excess money printing to keep interest rates lower show the government is not ready to deal with the core issues which could upset its voters.
The bigger question is if the IMF which is known to demand austerity in return for assistance has an appetite for the Cabraal-Rajapaksa merry-go-round.
Ostrich Approach
Basil Rajapaksa, who was expected to implement fiscal prudence and elevate Sri Lanka's economy to a sustainable footing, announced a New Year relief package worth 229 billion rupees. The allocation was not part of the 2022 budget and any adjustments will result in cuts to allocations to some crucial sectors. With successive governments, cuts have traditionally been made to capital expenditure and allocations to key sectors such as health. This is a text book no-no for IMF to get into bed with.
The lower income groups and daily wage earning citizenry are struggling to make ends meet. The government is trying to give more money to people to spur spending instead of addressing the reasons for shortages of food and rapid price increase. Such policies have increased cost of living and caused a trickle effect on demand for salary hikes. All of this is exactly what IMF tries to avoid when providing assistance to nations with limping economies.
Since President Rajapaksa took office in Nov. 16, 2019, there have been no major economic policies enunciated except reducing the value added tax from 15 percent to 8 percent in December 2019. Many analysts regard this as a populist move ahead of the much delayed 2020 parliamentary polls which cost the government 600 billion rupees ($3 billion) annually in tax revenue. These are stunts the IMF runs a mile from.
Moody Economic Policies
The central bank's stubborn move to fix the rupee against the US dollar has increased uncertainty in the foreign exchange market. Many exporters are trying to keep their foreign currency earnings out of Sri Lanka as much as possible due to sharp depreciation risk while some exporters have turned importers to get more rupees for every hard earned dollar.
Cabraal through his six-month finance and economic policy framework estimated the island nation to receive $11.45 billion inflow from exports, remittances, and tourism and that by end-2021 official reserves will be at $3.5 billion.
After every effort failed to bring in inflows through either debt or investment, he drew the 1 billion Yuan Chinese swap that was signed under his predecessor W. D. Lakshman in March last year and said he met his reserve target as he spelt out on October 1.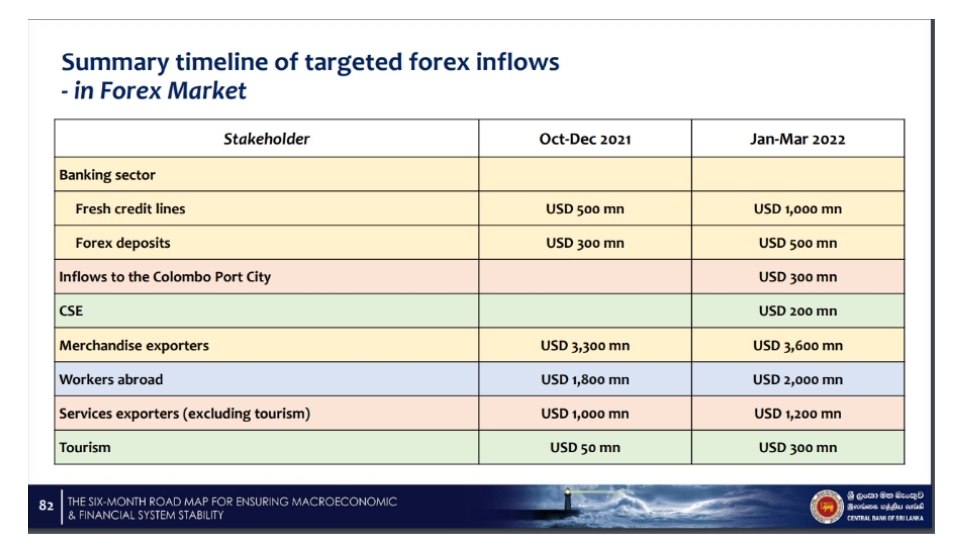 The reality of reserve management is clear in the manner the government and the central bank is trying desperately to seek dollars from all its foreign partners.
Some government officials with knowledge of such negotiations say foreign countries are unwilling to lend Sri Lanka as much as they used to earlier given Sri Lanka's external debt crisis and rating downgrades by all international rating agencies. Analysts fear another downgrading from Moody's in the near future.
International assistance sought
The central bank officials led by governor Cabraal flew to the Middle East for meetings with Qatar, Oman, Kuwait, and UAE, but are yet to receive any loan or swap arrangements. A $3.6 billion oil credit line from Oman was almost finalized, but has not yet materialized.
China has pledged to restructure Sri Lanka's debt. A possible $500 million swap arrangement from Qatar is also being discussed.
The debt and forex shortage crisis have forced the SLPP-led coalition government to lease out assets. The central bank in its six-month policy framework had estimated to raise $1 billion from leasing assets under "Monetization of underutilized assets".
The main issue facing the government is counterbalancing major powers like the United States, China, India, Japan, and some European countries. Political analysts observe that awarding of Yugadhanavi deal to the US-based New Fortress Energy, giving 51 percent shares for India's privately owned Adani group in West Container Terminal (WCT), and signing the decades lingering Trincomalee oil tank farm were some of the such counterbalancing acts because the island nation has given more projects to China, whose increasing presence is seen as a threat to the Indian Ocean region.
Sri Lanka has very little choice on counterbalancing if it wants to escape a sovereign debt default without seeking assistance from the International Monetary Fund (IMF). Both Cabraal and Basil Rajapaksa are sticking to their guns – they will not seek an IMF deal to restructure the country's debt. Shrewd leadership can secure assistance from India, China, Middle-East, Asia and IMF support simultaneously to pull Sri Lanka out of this economic precipice. The least the lenders will want is Sri Lankan leadership to use assistance responsibly. The loss is on the nation if Cabraal and Rajapaksa hold on to the delusion that Sri Lanka has the power to pit one lender against the other or even worse that beggars can be choosers.
(Shihar Aneez is the Head of Training at Centre for Investigative Reporting [CIR] Sri Lanka and former Senior Correspondent for Reuters for Sri Lanka and Maldives. He could be reached at shiharaneez@gmail.com or via Twitter @shiharaneez.
Omar Rajarathnam is the Co-Founder of Factum and the former Head of Communications at the U.S. Embassy to Sri Lanka and Maldives. He could be reached via omar@factum.lk)
***************
Disclaimer – Factum is a Sri Lanka based think-tank providing international relations analysis and public diplomacy consultancies in Sri Lanka and Asia. Visit – www.Factum.LK