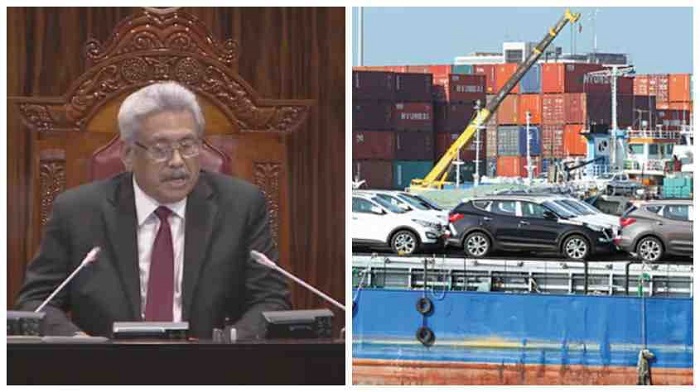 The Government will grant permission for the importation of vehicles in the future, with priority being given to electric vehicles, President Gotabaya Rajapaksa announced in Parliament today.
He made the observation when delivering the Government's Policy Statement during the second session of the 09th Parliament of Sri Lanka which was inaugurated today.
The President said that about 20% of Sri Lanka's annual import expenditure is allocated for the importation of crude. 
Stating that the total export earnings are less than US$ 1,000 million a month, he said nearly US$ 350 million is used per month for the importation of crude oil alone. 
About 70% of the imported fuel is used as fuel for vehicles, while 21% is utilized to generate electricity, and only 4% is used for industrial purposes, he said. 
President Rajapaksa said thereby when the import of vehicles is allowed in the future, the Government hopes to give priority to electric vehicles. 
He further said that Sri Lanka should plan to use renewable energy sources as much as possible when supplying electricity to vehicles.
The Government had banned the importation of vehicles in 2020 due to the impact of the coronavirus pandemic. 
The ban has been further extended continuously due to the foreign exchange and economic crises currently faced by the country. (NewsWire)