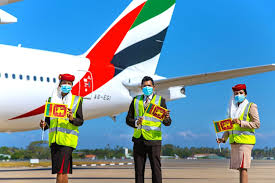 Emirates airlines has announced that it will add five more flights to Sri Lanka this year.
The airline yesterday said that the new flights will commence operations starting from 10 February 2022.
The additional flights will enable Emirates to offer customers 26 weekly flights to Colombo. This includes a daily service from Male to Colombo as well.
According to the airline, the added flights will operate every Tuesday, Thursday, Friday, Saturday and Sunday.
Emirates flight EK654 will depart Dubai at 1035 hrs and arrive in Colombo at 1625 hrs local time.
The return flight EK655 will depart Colombo at 2205 hrs and arrive in Dubai at 0155 hrs the following day, local time.
The additional flights will add another 1,780 seats into Colombo per week.
Meanwhile, Emirates SkyCargo will offer an additional 100 tonnes of cargo capacity each way per week between Dubai and Colombo. (NewsWire)