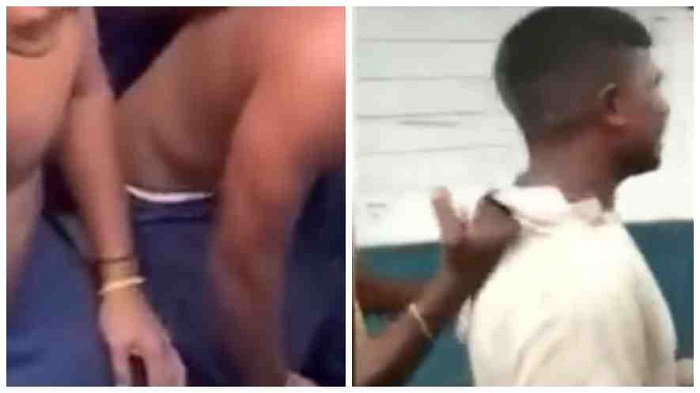 A group of people who had been part of the Sri Lanka Podujana Peramuna (SLPP) mob attack yesterday revealed they are inmates from the Watareka open prison camp in Padukka.
The group had been confronted by the angry public who had detained several of the SLPP mobsters who had attacked anti-government protesters near the Temple Trees and at the Galle Face Green in Colombo yesterday.
The attacks led to widescale unrest breaking out across Sri Lanka, despite an islandwide curfew being imposed to contain the situation.
Following their detention and interrogation by the public, the inmates said they were prisoners under rehabilitation at the Watareka open prison camp.
They also revealed that they had been escorted by a jailor from the prison to participate in the meeting with former Prime Minister Mahinda Rajapaksa at the Temple Trees last morning. 
Commenting on the matter, a former member of the Human Rights Commission of Sri Lanka Ambika Satkunanathan has questioned the actions of the prison officials in this regard. 
She pointed out that imprisoned persons cannot be taken out of prison without following several procedures, adding that it is quite impossible that the Wataraka Superintendent (SP) had no knowledge of it.
Satkunanathan further questioned who gave the Superintendent instructions to bring these inmates and if the Superintendent has done this before.
"What action will Comm-Gen of Prisons take? Where are the imprisoned ppl now? Most aren't aware that imprisoned persons are mostly poor and from marginalized social groups," she Tweeted. (NewsWire)
2 videos circulating of persons who say they are incarcerated persons who've been brought to attack peaceful protestors.

Imprisoned persons can't be taken out of prison without following several procedures & quite impossible Wataraka Superintendent (SP) had no knowledge of it. pic.twitter.com/053OkhgaqZ

— Ambika Satkunanathan (@ambikasat) May 10, 2022
It was reported that prisoners were bought today (10) to attack the protesters at #GotaGoGama. pic.twitter.com/xipnq14JW1

— DailyMirror (@Dailymirror_SL) May 9, 2022