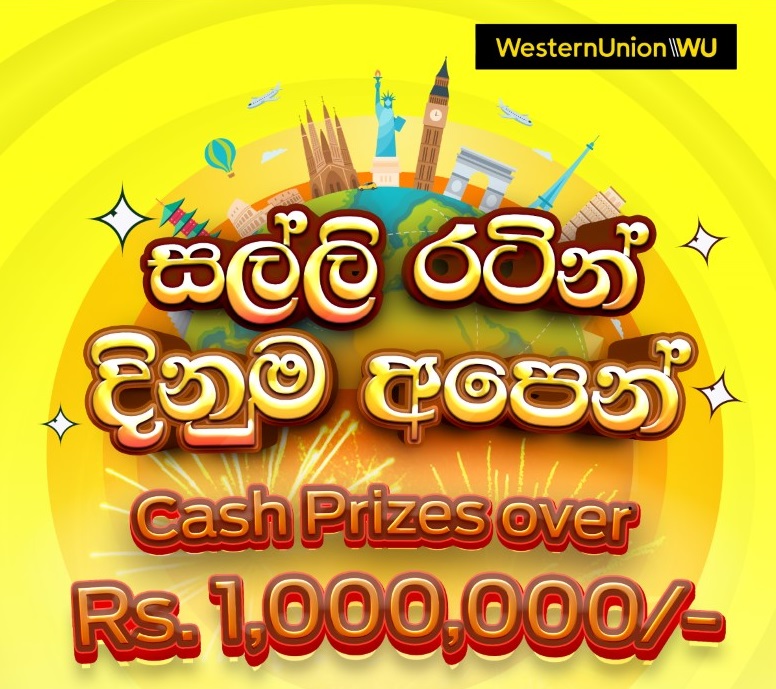 NDB Bank recently launched a campaign to encourage inward remittances by providing cash prizes worth over Rs. one million for customers who collect their Western Union remittances from NDB Bank or any of the Bank's registered agencies including Regional Development Bank (RDB), Singer Sri Lanka, Sarvodaya Development Finance (SDF) and Citizen Development Business Finance (CDB).
Any beneficiary of Western Union remittance who collects their remittances from NDB Bank branches or any of the above agent locations will be eligible to a raffle draw to win 100,000/- rupees monthly, 50,000/- rupees weekly and 10,000/- rupees daily.
Titled "සල්ලි රටින් දිනුම අපෙන්", the promotional campaign will run from 23rd May 2022 to 22nd July 2022. Western Union beneficiaries will be entitled to win a chance to be one of the 61 daily winners, 9 weekly winners and two monthly winners.
All Western Union customers who collect their remittances from NDB Bank branches and its agents will be entitled for the Government incentives to encourage inward worker remittances to Sri Lanka.
As a part of NDB's efforts to encourage inward remittances through formal banking channels as a responsibility towards the country, the Bank is constantly striving to make the lives of its clients and stakeholders easier and more convenient and thus, has also introduced the most convenient way in which the Bank's clients can receive money via Western Union with just one phone call to NDB banks Call Centre on 0117448888 or by sending a message through the NDB NEOS app. The funds received will be credited to the respective individual's accounts at NDB in just five minutes.
NDB was also the first bank to introduce an AI technology based VKYC verification option for opening accounts through its NEOS app for the ease for Sri Lankans based overseas providing a hassle free banking experience.
NDB Bank was awarded the "Best Bank in Sri Lanka" for the second consecutive year by Global Finance Magazine USA and "Best Digital Bank 2021" at the Asiamoney Best Bank Awards for Sri Lanka in addition to being named the "Most Awarded Corporate 2021" as per LMD ranking. NDB is the 4th largest listed bank in Sri Lanka and the parent company of the NDB Group. The only financial services conglomerate in Sri Lanka, NDB Group is uniquely positioned towards assisting the growth and development of the Sri Lankan financial market to provide its customers seamless access to the product and service offerings of all its group companies.