After the storm: Flight SU-289 and Sri Lanka-Russia ties
By Uditha Devapriya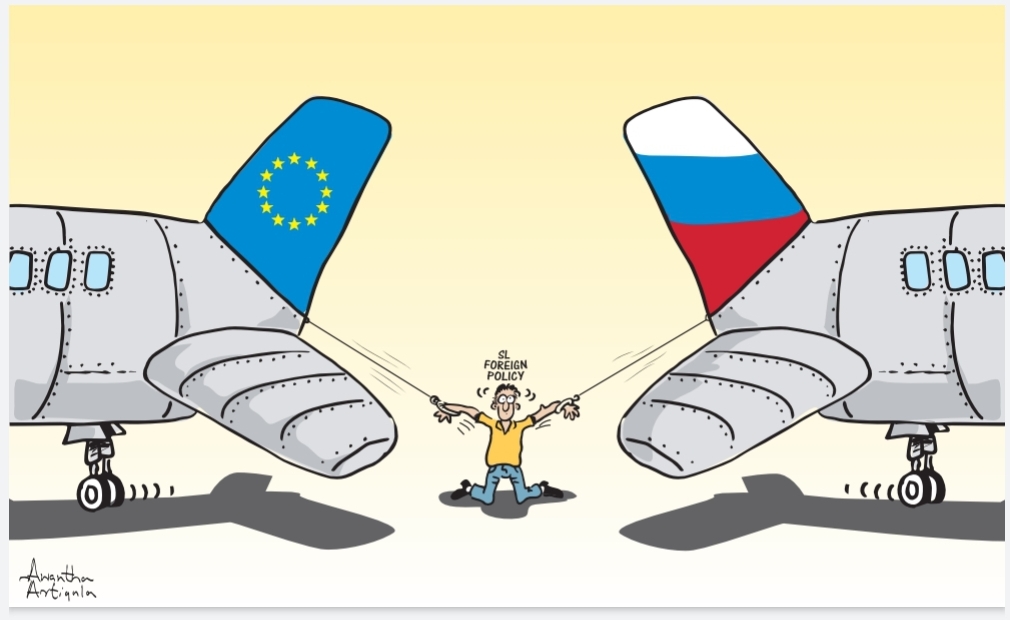 On June 2, the Commercial High Court of Colombo issued an enjoining order against Flight SU-289 over a lease matter, in effect preventing it from returning home.
The flight had been handled by Aeroflot, the Russian airline at the center of a controversy over Western sanctions. The order had been issued on a complaint by an Irish airplane leasing company, Celestial Aviating Trading 10, against two parties: Aeroflot, and the head of the Airport and Aviation Services of Sri Lanka. It was immediately complied with, leaving more than 200 passengers stranded in Colombo.
What was essentially a commercial dispute soon turned into a diplomatic row. Sri Lanka's Ambassador in Moscow, Janitha Abeywickrema Liyanage, was summoned by the Russian Foreign Ministry. In an official statement the Ministry urged Colombo to resolve the matter as quickly as possible, so as not to impact "traditionally friendly bilateral ties" between the two countries. Meanwhile, Aeroflot suspended all operations to Sri Lanka.
The Sri Lankan government was fast to react. It issued a statement the following day, highlighting the commercial nature of the dispute. Prime Minister Ranil Wickremesinghe instructed the newly appointed Foreign Secretary, Aruni Wijewardane, to investigate the issue. Several other Ministries, including Tourism and Transport, also commented on the matter, publicly regretting the incident. Such responses had to be quick: going through its worst economic crisis in living memory, Sri Lanka remains heavily dependent on markets like Russia for tourism, tea exports, and possibly cheap sources of fuel.
To be sure, Russian-owned Aeroflot has been flying in turbulent skies since last February. When a ban by the US and UK governments came into effect in early March, followed by a ban by the EU, Russian airline companies had to put up with three issues: the risk of flying overseas; the lack of spare parts; and the prospect of repossession of airplanes by Western leasing companies, following the Russian government's decision to reregister its fleet of foreign owned airplanes in response to sanctions.
The EU gave member countries until March 28 to conform with sanctions on Aeroflot and other Russian-owned airlines. This was hardly enough for companies that had leased planes and jets to entities like Aeroflot to recover their fleet. As of March, Irish leasing companies had leased more than 200 planes. By March 26 the biggest of those companies, AerCap, had filed a USD 339 million claim against another Russian airline, Volga-Dnepr, over eight Boeing airplanes. Analysts expect more claims and suits to follow.
Since the ban came into operation, Aeroflot has been cautious about international flights. While it did maintain flights to Central Asia and countries like Turkey, it began expanding its list of destinations only recently, resuming flights to New Delhi last month. Needless to say, this has had a massive impact on international relations and international law. The disputes with leasing companies are just the tip of a rather unwieldy iceberg.
The implications for a small country like Sri Lanka are obvious. On the brink of chaos and collapse, it cannot afford to let disputes involving a major power, especially one with which it has enjoyed warm ties for 75 years, go to waste. The fact that many Sri Lankans came to Russia's defense, on social media, going as far as to criticize the court's decision, shows that there is a consensus over the importance of maintaining those ties.
More seriously, the fact of its commercial nature did not deter people, even officials, from urging the government to get involved. The consensus here seems to be that the problem stretched beyond its legal consequences, having an impact on the country's ties with one of its more powerful allies. This was, in effect, a recognition of the role of realpolitik, power, and national interest, not to mention imbalances within inter-state relations, in otherwise perfunctory legal matters and commercial disputes.
However, it must be noted that the judge handled a legal matter, regarding which it was neither practical nor ideal to prioritize geopolitics over the independent functioning of the courts. Moreover, though Moscow expected the Sri Lankan government to intervene, such intervention would place the country in a different quandary, given that it is betting heavily on Western institutions, which tend to scrutinize the governance structures of the countries they lend to, to get over its economic crisis.
In any case, ex-ministers and ex-presidents, even those from the Opposition, were quick to react. While the main Opposition, the Samagi Jana Balavegaya, did not formally issue a statement on the matter, SJB MP and head of the 43 Brigade Patali Champika Ranawaka urged the government not to treat the dispute as a commercial issue. Dr Dayan Jayatilleka, former Ambassador to Moscow, commented earlier that Sri Lanka should refrain from doing the bidding of other countries, prioritizing its ties with Russia.
More importantly, former president Maithripala Sirisena, under whose administration a spat between Colombo and Moscow vis-à-vis an asbestos ban briefly imperiled tea exports, issued an apology on behalf of the government, urging Russia not to take steps against the country. Sirisena emphasized the warm ties his government enjoyed with Russia and with Putin: when he was in Moscow in 2017, for instance, the Russian President paid him a visit to hand over an unusual gift: a royal sword from the Kandyan era.
What such developments show is that, at the political level, there is a consensus over matters like bilateral relations with countries like Russia. A similar consensus prevailed last year over Israel's shelling of Palestine: in effect, both the ruling party and the opposition condemned the move, in a rare act of inter-party solidarity.
Soon after the incident at the Airport, Prime Minister Ranil Wickremesinghe urged Justice Minister Wijeyadasa Rajapakshe to expedite the Aeroflot case. The Attorney-General called for the enjoining order's suspension, which the courts eventually complied with. The flight has now returned to Moscow, and the Russian government has formally acknowledged the Sri Lankan government's "prompt settlement of the situation."
This is the latest in a long line of disputes that have almost derailed Sri Lanka's relations with its traditional allies. Given recent developments, it may not be the last. Yet it goes without saying that Sri Lanka can ill-afford getting into a similar spat, any time soon.
Uditha Devapriya is the Lead Analyst – International Relations at Factum and can be reached at uditha@factum.lk
Factum is an Asia-focused think tank on International Relations, Tech Cooperation and Strategic Communications based in Sri Lanka accessible via www.factum.lk