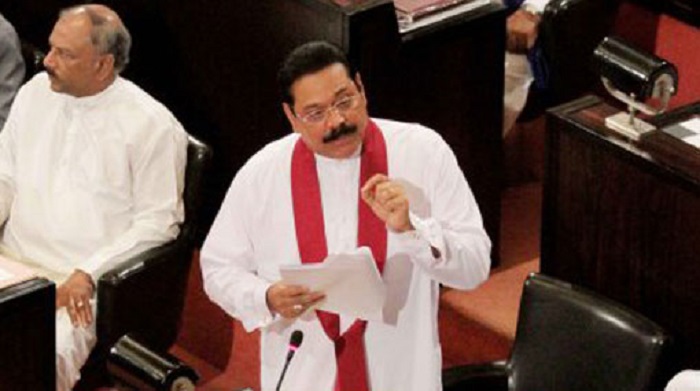 Former Prime Minister Mahinda Rajapaksa has accused the public protests, known as the 'Aragalaya' at the Galle Face Green, of murder.
Mahinda Rajapaksa said that even religious leaders who were engaged in the anti-government protests at the site were unable to prevent the violence that occurred on 09 May. 
He made the accusation in Parliament today during the vote of condolence on the murder of former MP Amarakeerthi Athukorala.
The former Prime Minister said the 'Aragalaya' cannot be considered peaceful and that those involved in the protests have blood on their hands.
Mahinda Rajapaksa pointed out that the late Amarakeerthi Athukorala had not done any wrong towards the 'Aragalaya'.
Sri Lanka Podujana Peramuna (SLPP) MP Amarakeerthi Athukorala was killed during the unrest that broke out in Sri Lanka on May 09.
Unrest broke out after SLPP loyalists attacked peaceful anti-government protesters near the Temple Trees and at the Galle Face Green in Colombo following a meeting with Mahinda Rajapaksa.
Initially reported as a suicide, the death of the MP was later confirmed as murder. As the unrest broke out, Amarakeerthi Athukorala had opened fire at the public who had obstructed his vehicle in Nittambuwa, injuring people. 
He had later fled the area and had sought refuge inside a building after being surrounded by the public. Thereafter, he was found dead along with his security official, with Police investigations confirming that he had been murdered.
Several suspects have been arrested over the death of the SLPP MP Amarakeerthi Athukorala. (NewsWire)