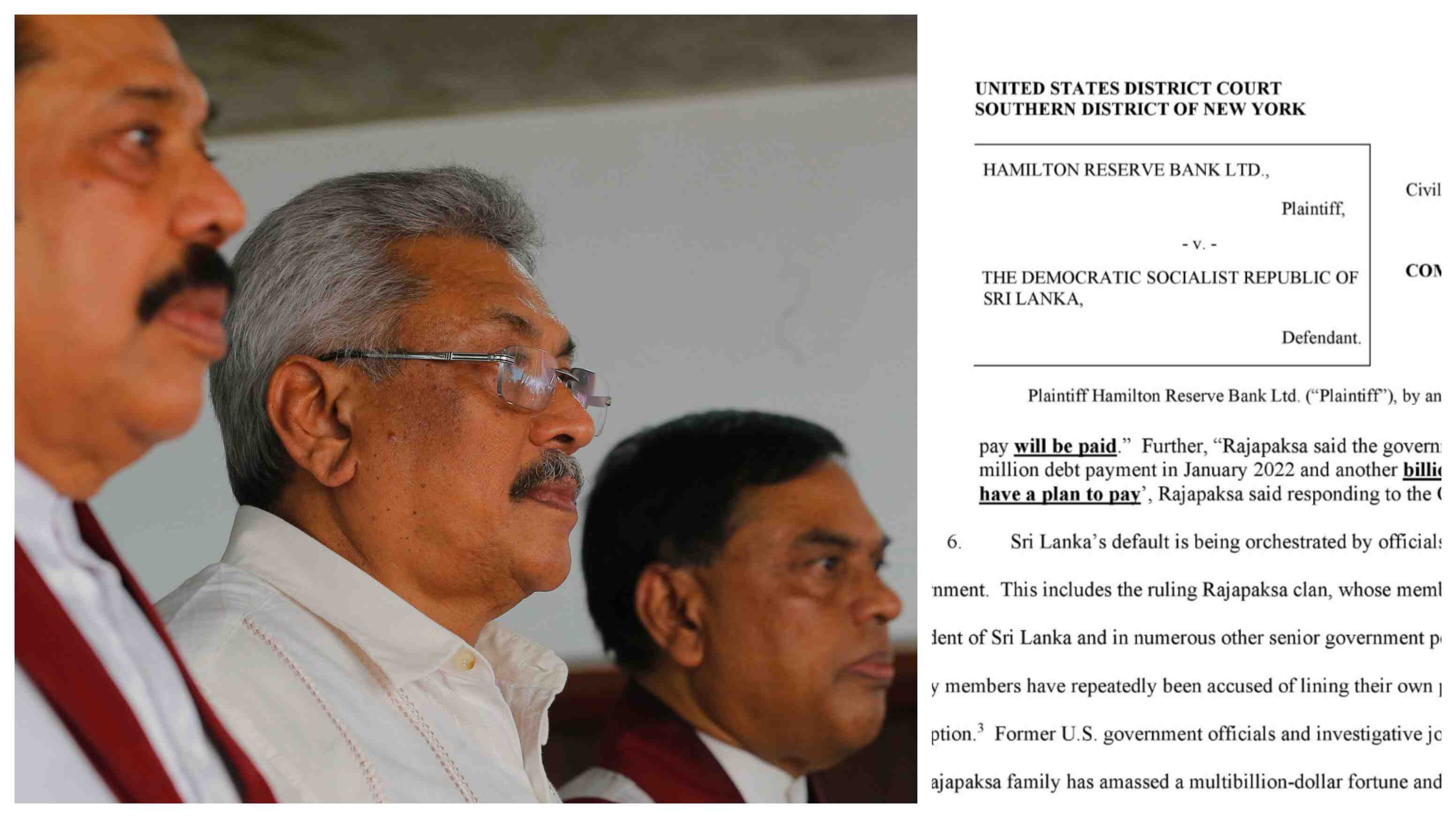 A US firm that has sued Sri Lanka for defaulting on its debt says that Sri Lanka's default is being orchestrated by officials at the highest level of the Government including the  'Rajapaksa clan' according to court documents published by News First.
Hamilton Reserve Bank Ltd., which holds more than $250 million of Sri Lanka's 5.875% International Sovereign Bonds due July 25, filed the suit Tuesday in a New York federal court seeking full payment of principal and interest.
Hamilton Reserve, based in St. Kitts & Nevis, said in the lawsuit that the default is being "orchestrated by officials at the highest levels of government," including the ruling Rajapaksa family.
"This includes the ruling Rajapaksa clan, whose members currently serve as President of Sri Lanka and in numerous other senior government positions. The Rajapaksa family members have repeatedly been accused of lining their own pockets through years of corruption. Former U.S. government officials and investigative journalists have exposed that the Rajapaksa family has amassed a multibillion-dollar fortune and hidden part of it in bank accounts in offshore jurisdictions such as Dubai, Seychelles, and St. Martin," it added.
It also notes "Basil Rajapaksa, a Member of Sri Lanka's Parliament and former Minister of Finance, is a Sri Lanka/U.S. dual citizen with homes and family members based in California. He has reportedly figured prominently in the Rajapaksa family's corrupt activity. For example, U.S. government documents report that in prior government appointments, Basil Rajapaksa "earned the nickname 'Mr. Ten Percent' for demanding a ten percent commission on every project," "makes a habit of trying to 'buy people,'" and "continues to be accused of significant corruption in his current position."
Those same documents report that Sri Lanka's then President, Mahinda Rajapaksa—Basil's elder brother and the Prime Minister until May 9, 2022—"consults Basil on most political matters . . . despite his limited education and lack of relevant work experience."
The firm has also accused Sri Lanka of excluding bonds held by domestic banks and other interested parties from an announced debt restructuring. (NewsWire)