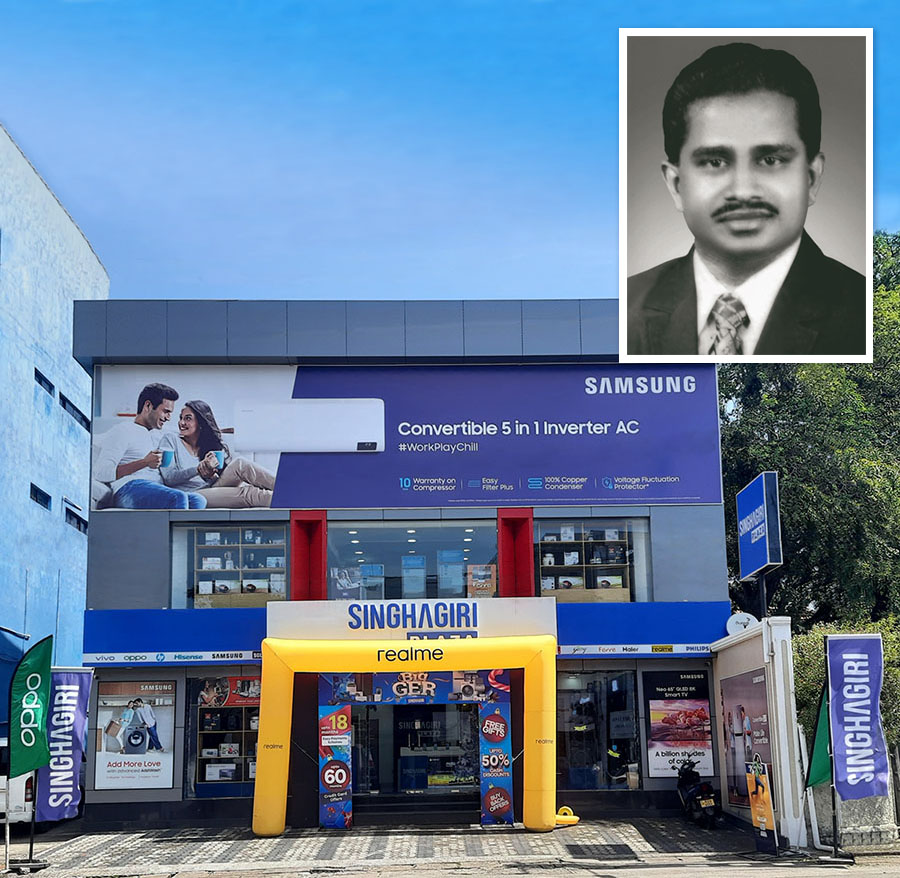 With the completion of 50 successful years of outstanding achievements, that established Singhagiri as the trusted electronics and home appliances partner of every Sri Lankan household, comes the perfect opportunity to congratulate the combined efforts of every Singhagiri employee.
Singhagiri would also like to offer its heartfelt gratitude to its valued consumers for their continued patronage and unwavering trust, which enabled the company to celebrate yet another significant milestone.
The company wishes to extend its thanks to its esteemed partners whose sustained cooperation was vital to its progress.
In 1930, Singhagiri General Stores was founded by the late Sugathadasa Marasinghe and was incorporated as a private limited liability company in 1972, resulting in the inception of Singhagiri Pvt Ltd.
Singhagiri, now a leading Consumer Electronic Retailer in Sri Lanka, boasts long years of hard work, determination, patience and dedication. From humble beginnings to have built an empire with a widespread network of showrooms, numerous subsidiaries under the Singhagiri umbrella, and a wealth of employees sharing one vision is indeed admirable.
Singhagiri at its inception dealt with textiles and saw numerous prospects in the electronic boom of 1977 and embraced the opportunity to offer its Sri Lankan clientele premium consumer electronics.
Being the first company to have proudly introduced the acclaimed brand Samsung to the Sri Lankan market, Singhagiri's product portfolio consists of many more world-renowned brands.
With the prime objective of offering premium brands at affordable prices and thereby empowering Sri Lankans, Singhagiri persists in its unstoppable and steady stride, partnering with dominant brands such as Hisense, an affordable luxury brand that enhances the Sri Lankan lifestyle by adding class and comfort.
The company owns 100 retail showrooms, 12 flagship plaza showrooms and an outlet at the Bandaranaike International Airport's duty-free terminal. Singhagiri is also represented in 200+ dealer points islandwide.
Backed by engineers and technicians who have mastered their skills with overseas training, Singhagiri offers its loyal customers genuine after-sales services with quality maintenance and repair solutions.
Relentless in its endeavour to serve the Sri Lankan masses with nothing but the best and contribute further to the nation's economy, Singhagiri has its superior product lineup branded 'SGL', consisting of refrigerators and kitchen and home appliances. Moreover, Singhagiri now manufactures SGL branded TVs, a first in the history of Sri Lanka and no doubt a boon to the Sri Lankan economy.
In order to achieve their corporate objective of offering Sri Lankans dependable products and services, Singhagiri embarked on supplying Sri Lankan households with Solar and related services as well.
The success of Singhagiri Pvt Ltd was acknowledged by the LMD Magazine, nominating Singhagiri as one of the 100 most respected companies in Sri Lanka for the year 2022.
Singhagiri Pvt Ltd as a company is proud and genuinely pleased that it is one of the main contributors to the national economy with an annual turnover exceeding Rs 400 million and is creating employment opportunities for hundreds of Sri Lankans, empowering individuals and households with a promise of a better future that holds hope and trust.
Congratulations to the Singhagiri Team on celebrating 50 successful years in business, and cheers to many more!