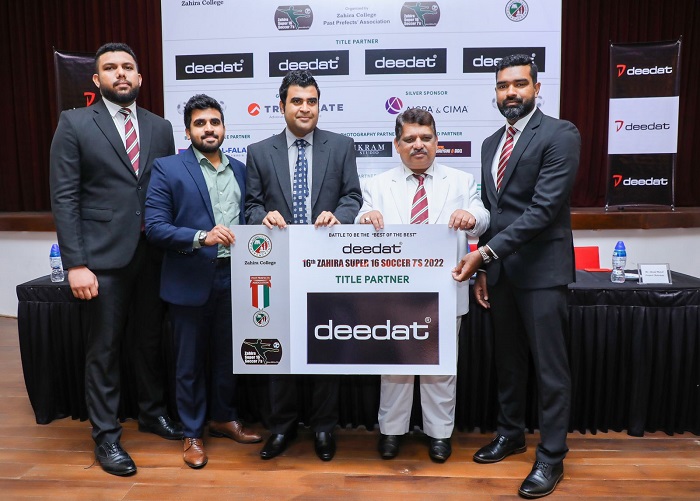 Past Prefects' Association of Zahira College Colombo will be organizing the Deedat 16th Zahira Super 16 soccer 7's championship for the 16th consecutive time this year which will be held throughout the entire day at Race Course International stadium on the 01st of October 2022. 
Due to the current situation in our country, the organizing committee has decided to invite schools only from the Western province. Hence 16 Leading, football-playing schools from the Western province will be part of this prestigious tournament for the 16th time where the youngsters will get chances and opportunities to showcase their talents, skills, and abilities in football on a larger scale. 
The Important Aspect of this tournament is, it is played at a venue where international football is played so the youngsters of the country get the opportunity to adhere to the atmosphere of such venues and play in front of a huge crowd. As Sri Lankan Football at the rise with the dream of qualifying for the FIFA world cup in 2030, the Past Prefects' Association of Zahira College organizing a tournament of such caliber will be a big opportunity for the youngsters to perform and catch the eyes of the National authorities. This tournament will be officiated by experts in local and foreign football who are recommended by the Educational Ministry and the Football Federation of Sri Lanka. 
Further, the organizing committee takes great pleasure in announcing that, the Deedat will be the title sponsor for this tournament.
Title Sponsor : Deedat 

Gold Sponsor : Trainocate 

Silver sponsor : The Chartered Institute of Management Accountants (CIMA) 

Official Banking & Finance Partner : Al-Falaah, Alternate Financial Service of LOLC Finance Plc

Official Digital Broadcasting Partner : ThePapare.com 

Official Food Partner : Royal Biriyani & BBQ 

Official Photography Partner : Ikram Studio 

Official Water Partner : Aqua Fresh Natural Water 
Event partners 
A Brand Wooden Flooring (Pvt) Ltd 

EFL

Leeban Interiors 

Smart Biz Consortium (Pvt) Ltd 

Sports World • FONO Technologies 

BMS Manpower 
All the 16 participating school teams are listed below
01 Al – Hikma College, Colombo 
02 Alethea International School, Colombo 
03 Darussalaam College, Colombo 
04 De Mazenod College, Kandana 
05 D. S. Senanayake College, Colombo 
06 Gateway College, Colombo 
07 Hindu College, Colombo 
08 Isipathana College, Colombo 
09 Lyceum International School, Nugegoda 
10 Maris Stella College, Negombo
11 Royal College, Colombo
12 S. Thomas' College, Colombo
13 St. Benedict's College, Colombo 
14 St. Joseph's College, Colombo
15 Wesley College, Colombo
16 Zahira College, Colombo
The organizing committee invites all soccer enthusiasts to come and feel the excitement of the "Deedat 16th Zahira Super 16 Soccer 7's 2022 on Saturday, 1 st of October 2022 at Race Course International stadium. 
More details can be obtained from the Past Prefects' Association's website (www.ppzahira.com) and Media Coordinator Mr. Muzni Munas on 0770 782783.