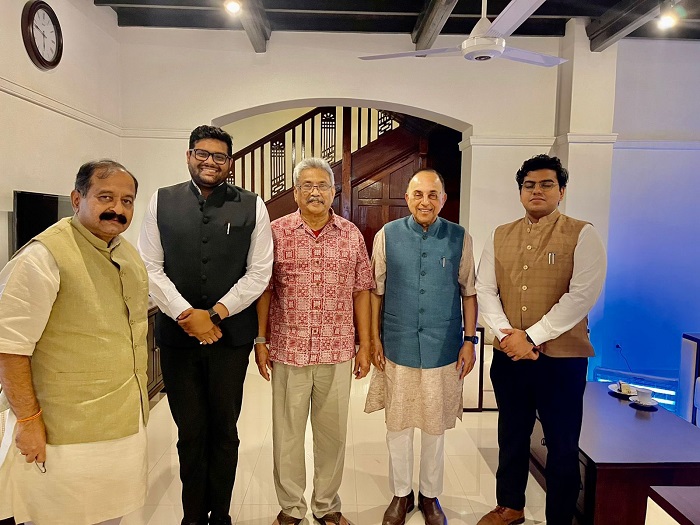 Senior Indian politician Subramanian Swamy has met former Sri Lanka President Gotabaya Rajapaksa in Colombo.
Subramanian Swamy was accompanied by a group of Indian lawyers and businessmen during his meeting with the former President. 
The Bharathiya Janatha Party politician is expected to call on Sri Lankan Prime Minister Dinesh Gunawardena tomorrow.  
Subramanian Swamy had called on former President Gotabaya Rajapaksa on the sidelines of his visit to attend the 15th International Research Conference organized by the General Sir John Kotelawala Defence University (KDU).
Known to be a close ally of the Rajapaksa family, Subramanian Swamy earlier faced severe backlash on social media for his comments on the unrest in Sri Lanka in May.
Swamy had Tweeted, "India must send in the Indian Army to restore Constitutional sanity. At present anti-Indian foreign forces are taking advantage of people's anger. This affects India's national security."
Although he had not directly referred to Sri Lanka in his message, many social media users had pointed out that he was commenting on the unrest reported in Sri Lanka. (NewsWire)