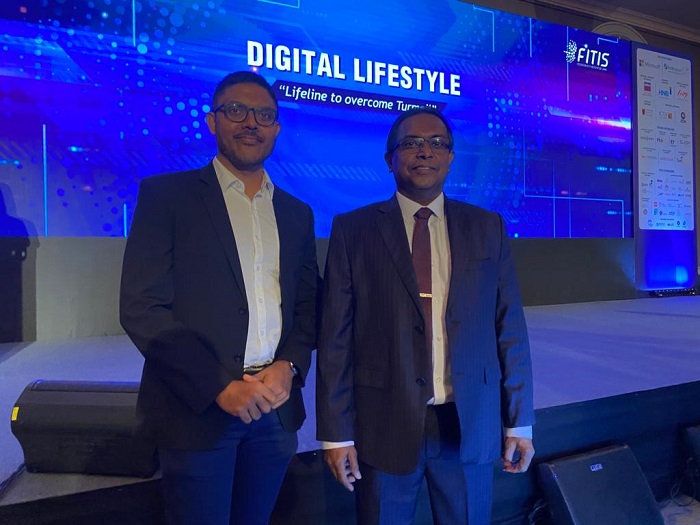 'Internet Day 2022' organised by the Digital Chapter of the Federation of Information Technology Industry Sri Lanka (FITIS), was held in Colombo today.
President Ranil Wickremesinghe had shared a message as the 'Chief Guest' to mark the event.
The Digital Chapter of FITIS said in their 'Internet Day 2022' statement, "if Sri Lanka is to expand into a global economy, we need to look at the digital sector and this can be done by fixing our policies and laws." 
The statement said, "unfortunately, we are not yet ready to understand this at any level and this is clearly seen at government level. The first signal that we have been going in the wrong direction is the primary body that was dealing with information technology being dissolved."
Policies of successive governments have choked the growth of the country's digital industry. The FITIS Digital Chapter says by not creating equal opportunity for local entrepreneurs and businesses, not only is the state presenting them with a huge stumbling block, but is also losing considerably in terms of tax levies.  There are large international digital players operating in the local market without paying any taxes because regulators have failed to bring in policies that would prevent these players from taking our foreign currency out of the country.  Although the Central Bank has admitted that a level playing field is necessary, nothing has been done since their report in 2019.  
One of the "Internet Day 2022" sessions handled the need to develop IT professionals. Currently, more than 300 IT BPM companies operate in Sri Lanka, some of them large international players but mostly small and medium companies, and all of them are in need of highly skilled IT graduates.  The supply is simply not enough; therefore, gearing our higher education institutions both state and non-state to produce more IT graduates is a priority.
The statement also pointed out that the IT BPM (Information Technology Business Process Management) industry is one that can easily pull the country out of the economic quagmire it's currently in.  With just a little bit of tweaking this industry can bring considerable benefits.  For starters, if local higher education institutes and universities are geared to produce 50,000 IT graduates per annum, instead of the current 10,000, how much is it in terms of annual earnings? Taking an average median of US$ 250/- per graduate per month, the annual earnings would be US$ 150,000,000. IT graduates with knowledge and experience have the capacity to earn double that, and an average of US$ 500/- per graduate would return earnings of US$ 300,000,000. These figures can grow exponentially each year and it is a given that the IT industry has the potential to become bigger than any of the export silos in the country.
With the president taking a re-look at everything that needs to be done for the digital economy, there is still hope.  If we have to refix our targets and benchmarks, it has to be done by looking inward first before we look outwards. We can take cues from our South Asian neighbours as to how we can do this. There is no doubt that one of the first steps is to bring policies that would support our higher education system, so that we can produce more IT graduates every year to support the industry.  Another important step is to change policy on taxation so that level playing fields are created for our local digital economy so that foreign digital players operating in the country do not have unfair advantages.  Creating equal opportunities will help foreign players connect to local markets, in ways that will benefit the overall economy. The biggest advantage in a digital economy is that it is not about creating exclusive markets, but rather driving opportunity even to the bottom of the pyramid.  And the first step towards all this is democratising the use of the internet.