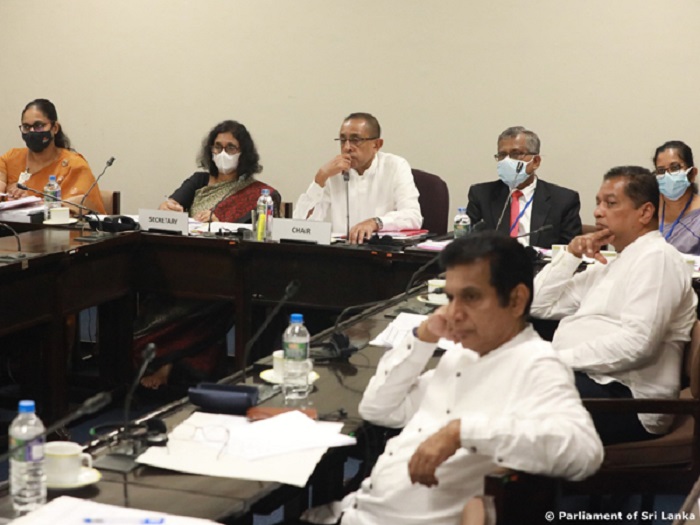 Complaints against the official at the Sri Lankan embassy in Oman had been known since February this year, with action delayed, the Committee on Public Accounts (COPA) has been informed.
The Third Officer of the Sri Lankan Embassy in Oman has been suspended for his involvement in the human trafficking ring in Oman, where nearly 90 Sri Lankan women are stranded after arriving on tourist visas for work, and some being sold at auctions for sexual activities. 
The Parliament of Sri Lanka said in a statement that the matter was discussed at the COPA meeting held on Tuesday (22), chaired by COPA Chairman MP Kabir Hashim.
During the meeting, the Additional Auditor General P. L. K Perera pointed out that on 28th February 2022, the former chairman of the Foreign Employment Bureau requested an investigation through the Internal Audit Division regarding this particular officer. He further pointed out that financial fraud, certificate fraud, etc. had been reported regarding this official.
Thus, it was disclosed that the former chairman of the Foreign Employment Bureau, Major General Mahinda Hathurusinghe, had requested the Ministry in February of this year to make arrangements for the Embassy official to be brought back to Sri Lanka immediately, as investigations may be hindered if this person remains in the post. 
The COPA committee expressed its strong displeasure for not taking action until the incident received a lot of publicity through the media.
The Director General of the Foreign Employment Bureau said that in February, according to the request of the former chairman of the Foreign Employment Bureau, an investigation on this official was conducted through the Internal Audit Division, but the allegations could not be confirmed. 
The Director General said that after calling for a report from the Ambassador of Oman and based on the investigation report received from the Criminal Investigation Department on the 4th of November, the Bureau took action to suspend the said officer.
The COPA Committee expressed its displeasure over the lack of prompt action regarding this officer and questioned the matter at length.
The secretary to the Ministry of Labour and Foreign Employment said that even though he came to this Ministry after May this year, he will accept the responsibility. 
The COPA committee pointed out that even if the secretary changes, the officials should take responsibility for this. (NewsWire)