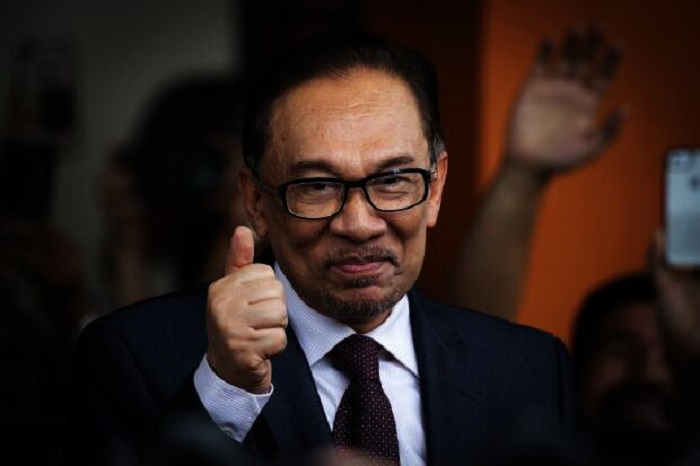 Malaysia's king appointed long-time opposition leader Anwar Ibrahim as prime minister on Thursday, Malaysia's The Star reported.
In a statement, Istana Negara, the official residence of the monarch of Malaysia, said that Anwar Ibrahim will be sworn in at 5 pm today, ending five days of unprecedented post-election crisis after inconclusive polls.
"After refining the views of the Malay rulers, His Majesty has given consent to appoint Datuk Seri Anwar Ibrahim (the Tambun MP) as the 10th Prime Minister of Malaysia in accordance with His Majesty's authority as provided under Article 40(2)(a) and Article 43(2) (a) of the Federal Constitution," said Comptroller of the Royal Household Datuk Ahmad Fadil Shamsuddin.
Accordion to The Star, Ahmad Fadil said the King reminds all Dewan Rakyat members to work together for the future of our beloved nation.
The King said the nation is an inheritance, which has been entrusted to the leaders, who need to protect it for the younger generation.
Al-Sultan Abdullah also reminded the Prime Minister and the new government to remain humble.
"The people should not be burdened with endless political turmoil.
"The country needs a stable government to stimulate the economic landscape and for development.
"Dewan Rakyat members who have been elected by the people are reminded to show solidarity by giving priority, high commitment, and their best service to the people," Ahmad Fadil said.
The King also expressed appreciation for the support given by the Malay rulers for him to fulfill his constitutional role and his stand to see the formation of a stable government as soon as possible.
In GE15, no party was able to secure a simple majority to form the new Federal government.
The three main coalitions, namely Pakatan Harapan, Perikatan Nasional, and Barisan Nasional won 82, 73, and 30 seats respectively, resulting in a hung Parliament.
Political parties and coalitions failed to reach a consensus following the conclusion of GE15, with the situation remaining unresolved for five days.
A special meeting was held at 11 am on Thursday among the Malay rulers.
The special meeting was held to allow the Yang di-Pertuan Agong to seek the opinion of his fellow rulers on the formation of the new government. (NewsWire)