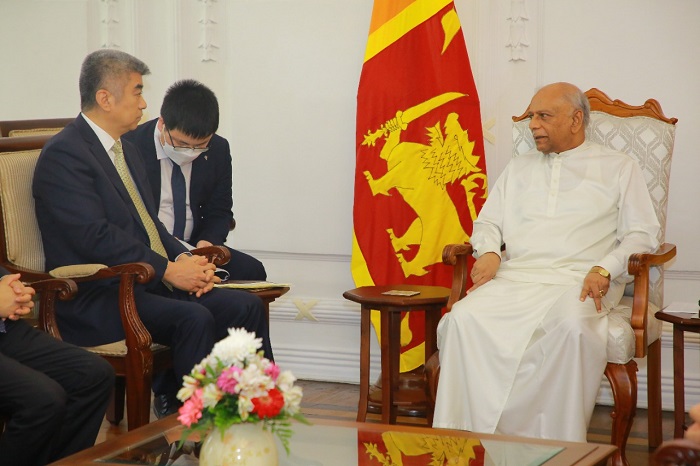 A high-level delegation of China's Communist Party (CPC), led by Vice Minister Chen Zhou, Head of the CPC International Department called on Prime Minister Dinesh Gunawardena at the Temple Trees yesterday (January 16).
According to the Prime Minister's Office, visiting CPC Vice Minister Chen Zhou assured that China would stand by Sri Lanka in the current economic crisis.
"Sri Lanka is a very special friend of China and we are considering how we could assist Sri Lanka to get over the current crisis," Chen Zhou said and assured the Prime Minister, "You will have some good news soon".
When responding to China's support for Sri Lanka's debt restructuring, Chen Zhou said and assured the Prime Minister, "Several Ministries and financial institutes of China are working closely on this issue for quite a long period. I'm confident that Sri Lanka will have good news very soon".
During the meeting, Chen held a detailed discussion on how to enhance Sri Lanka-China bilateral pragmatic cooperation and party-to-party exchanges between the CPC and progressive political parties in Sri Lanka like Mahajana Eksath Peramuna (MEP). 
The Prime Minister said Sri Lanka looks forward to China's support in restructuring its debt at the moment and further strengthening its economy in the near future.
He recalled the long-standing relationship between China and Sri Lanka, with emphasis on the people-to-people relationships covering trade unions and socialist political parties.
Vice Minister Chen reciprocated that he was glad to learn that the Premier's father late Philip Gunawardena was a great friend of China and his late mother Kusuma Gunawardena was the first President of the China – Sri Lanka Friendship Association.
He briefed the Prime Minister about the decisions taken at the 20th CPC National Congress and said China will further enhance cooperation with friendly developing countries under President Xi Jinping's policies.  
He said the aim of his visit was to meet leaders of the government and political parties of Sri Lanka, brief them on the CPC National Congress' decisions and promote the bilateral relations and inter-parties exchanges between China and Sri Lanka. 
He said Sri Lanka has vast potential for growth and Chinese investments in many sectors will increase in the years to come.
Minister of Indigenous Medicine Sisira Jayakody, Parliamentarian Yadamini Gunawardena, Secretary to the Prime Minister Anura Dissanayake, Acting Chinese Ambassador, Hu Wei, Deputy Director General, Bureau I, IDCPC, Xu Min, Counsellor Chen Xiangyuan, IDCPC Director Li Jinyan and Chief Political Officer, Luo Chong were also present at the meeting. (NewsWire)