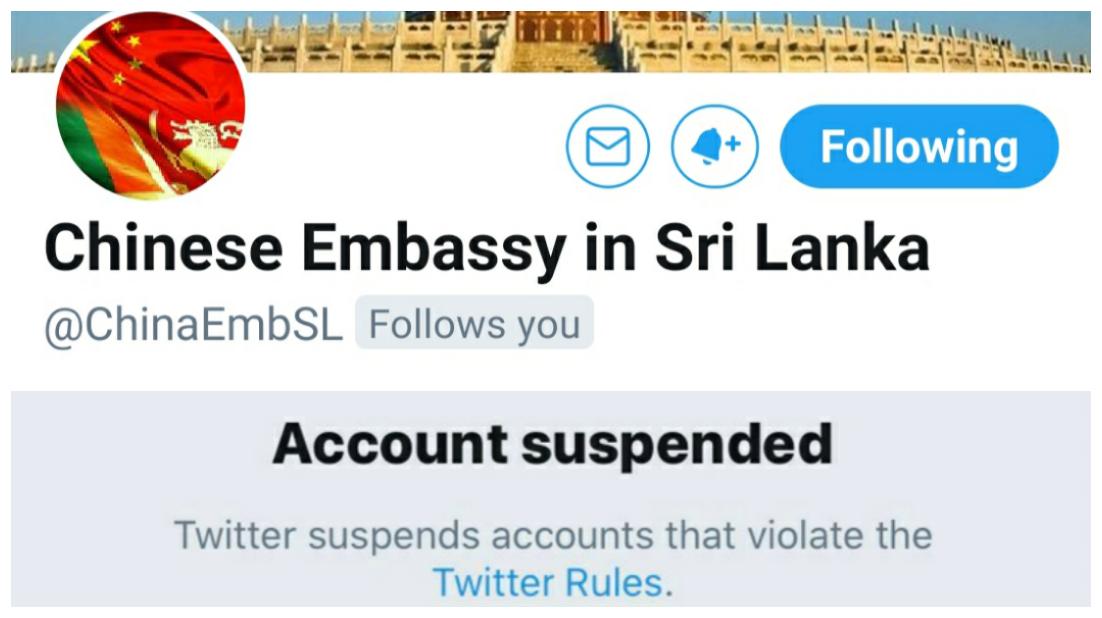 Twitter has suspended the Chinese Embassy Colombo Twitter account for violating Twitter rules.
It's not clear what's the exact reason for the suspension of the account which was established recently.
Account posted first hand information on China – Sri Lanka affaires.
Sri Lankan President Gotabaya Rajapaksa retweeted a tweet from the account few days ago.
The account was very active and was seen replying to all allegations against China directly in an undiplomatic language.
"Best laugh, Best drowning, Best belly" Gammanpila to host online new year games 
Before the account was blocked some had questioned the aggressive approach of the Chinese Embassy in Twitter.
Is this a Chinese Government's official @twitter account? Usually embassies have protocols and language restrictions when it comes to online communications and handling critics/complains. @MFA_China @zlj517 @SpokespersonCHN Any thoughts? pic.twitter.com/kcyFplNQkt

— Budu℠ (@BuduMalli) April 9, 2020
The official @Twitter handle of China's Embassy even which the Sri Lankan President and Prime Minister retweeted is now taken down for violating the Twitter Rules @verified https://t.co/vw2k5wITGh pic.twitter.com/0dUJCNqSnh

— Belt & Road Initiative Sri Lanka (@BRI_SL) April 13, 2020