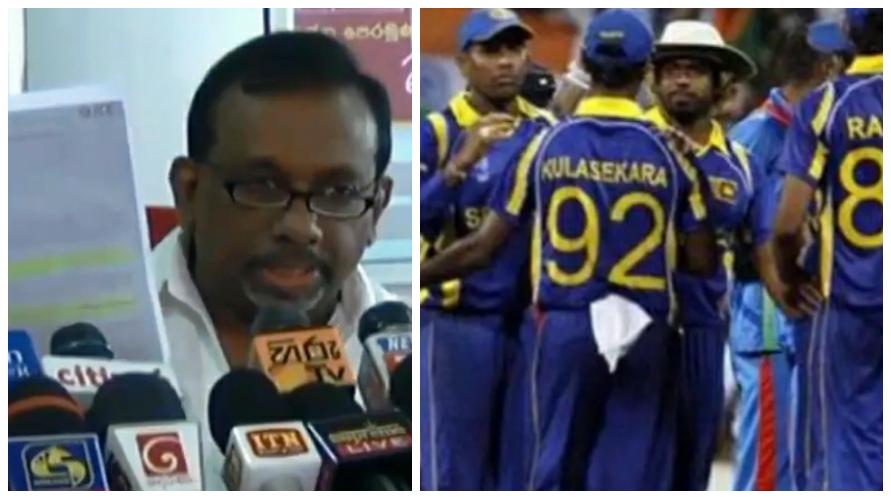 The Morning Newspaper today reported the summary of the 24 allegations put forward by former Minister of Sports Mahindananda Aluthgamage to the special police investigation unit of the Ministry of Sports, investigating the 2011 world cup final match- fixing allegations.
According to the Morning Newspaper, the allegations levelled by the former sports minister are to be centering on the following points
Were there any unusual guests meeting leading officials of the Sri Lanka team at the team hotel before the final match?
Why the final eleven of the final was changed by the National Selection Committee comprising Aravinda De Silva (Head), Ranjith Fernando, Amal Silva, and Shabir Asgar Ali
Why did Chaminda Vaas, who was flown in from Colombo to Mumbai a day before the final not included in the team?
Why were four surprise and eleventh-hour changes were made quite unusually in the finals?
Were there four changes made at the breakfast table on Saturday, 2 April 2011, the very match day of the final ?
How could some last-minute surprise inclusions such as Suraj Randiv and Chamara Kapugedera were made in the Sri Lanka playing eleven?
Was there a team decision to bat second if Sri Lanka won the toss (because of the dew factor during second innings and the fact that the Indians are good at chasing then), and eventually the decision was changed by someone the other way around?
Why was the toss of the coin before the match done twice?
Who was smoking over fifty cigarettes when Sri Lanka were batting?
Who was the senior player who avoided congratulating Mahela Jayawardene upon his return to the pavilion after making his century?
When India batted, were some of the Lankan top senior bowlers were forced by someone on the field to bowl disregarding their refusal?
Why did the seniors of the side were evidently at arguments during the crucial stages of the Indian reply?
Why was the evidently natural flow of the match changed immediately after the 20th or 25th over of the Indian innings?
Who was the leading official in the player dressing room, who was fully engrossed in telephone conversations throughout the entire final?
Do the changes and rotation of Sri Lankan bowlers during the Indian innings imply the will to restrict the batsmen and take their wickets, or otherwise?
Was there an unusual connection between the changes of bowlers and moves taken by the Sri Lanka and the simultaneous betting patterns of the bookie of the game?
Why did skipper Sangakkara and the chief of selectors de Silva resigned from their posts immediately after the finals?
Are any further evidences sought from a very senior player who played in the final and is convinced that the match was fixed?