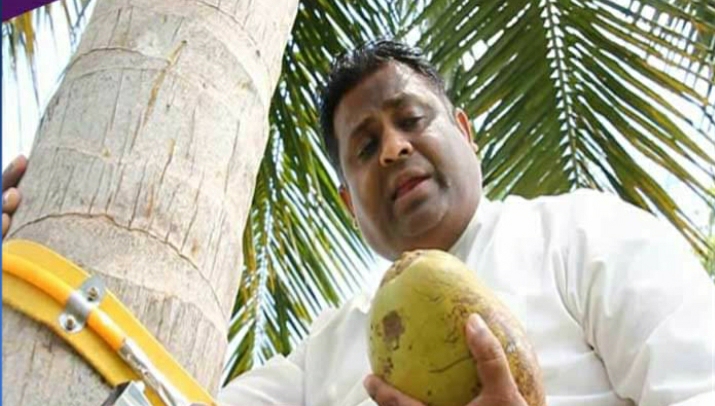 Breaking from tradition, State Minister of Coconut, Fishtail Palm, Palmyra, and Rubber Product Promotion Arundika Fernando held a different form of press conference in Dankotuwa today (18).
According to reporters, State Minister Arundika Fernando addressed the media after climbing up a coconut tree.
The State Minister had climbed up a coconut tree in his coconut estate in Dankotuwa and reportedly picked a number of coconuts as well.
Speaking to reporters from atop the coconut tree, he said the price of coconuts has increased due to the demand for coconuts related products world over.
The State Minister further said those employed to pick coconuts must be paid Rs. 100 per tree.
Stating that the search for employees for the production of toddy and to pick coconuts has become difficult, he vowed not to import coconuts despite an increase in price.
A machine to climb coconut trees, assembled by an individual from Warakapola, was also tested by State Minister Arundika Fernando during the media briefing.
The State Minister had informed media that necessary measures will be taken to introduce the machine in the next few months. (NewsWire)