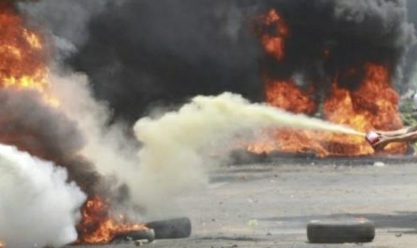 Myanmar's security forces shot and killed at least 64 people — including a young boy — on Saturday, news reports and witnesses said, even as the ruling junta's leader said the military would protect the people and strive for democracy.
Protesters against the Feb 1 military coup came out on the streets of Yangon, Mandalay and other towns, defying a warning that they could be shot "in the head and back", while the country's generals celebrated Armed Forces Day.
"Today is a day of shame for the armed forces," Dr Sasa, a spokesman for CRPH, an anti-junta group set up by deposed lawmakers, told an online forum.The deaths on Saturday, one of the bloodiest days since the coup, would bring the number of civilians reported killed to nearly 400. Tens of thousands of people demonstrated in parts of the country on Saturday.A boy reported by local media to be as young as five was among at least 13 people killed in Mandalay. The Myanmar Now news portal said 64 people had been killed in total across the country as of 2.30pm local time.
Three people, including a man who plays in a local under-21 football team, were killed in a protest in the Insein district of Yangon, a neighbour told Reuters.
"They are killing us like birds or chickens, even in our homes," said Thu Ya Zaw in the central town of Myingyan, where at least two protesters were killed. "We will keep protesting regardless. … We must fight until the junta falls." (Bangkok Post)