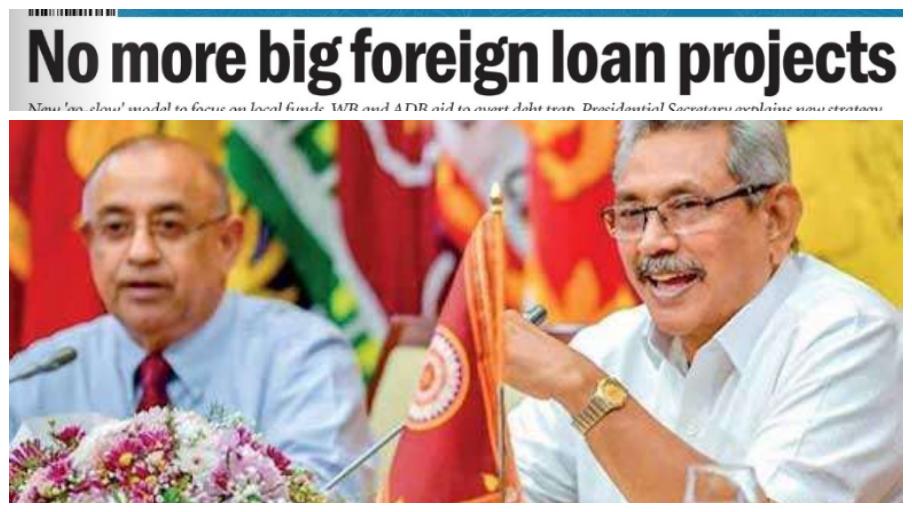 The Government has decided to refrain from getting involved in expensive foreign loan-funded projects in the future.
Secretary to the President P B Jayasundera said the Government intends to slow down the signing of such projects, The Sunday Times reported.
He said the solution to the situation was the formulation of a new model, focussing on raising local funds instead of obtaining foreign loans, in order to avoid the external debt trap.
Sri Lanka was also looking for more backing from the World Bank (WB) and the Asian Development Bank (ADB), Jayasundera said.
Pointing out that Sri Lanka's infrastructure was reasonably good in comparison to most South and South-East Asian developing nations, he said the Government must now refrain from looking at very ambitious projects.
He added that the aim was to refrain from getting into electronic and underground train projects or too many ambitious ventures, because the debt profile does not permit Sri Lanka to do so.
By the end of August 2020, the Government's total outstanding external debt was US$ 35.3 billion (Rs 6.95 trillion).
Of this, 47 percent is market borrowings; 13 percent is owed to the ADB; 10 percent each to Japan and China; nine percent to WB; two percent to India; and the rest to others.
P.B. Jayasundera said another policy was to prepare the country to attract foreign direct investment (FDI) more rapidly.
Pointing out that this is why the Port City law matters, he explained that the Port City legislation enables Sri Lanka to create a service centre with an incentive structure that will encourage the FDIs on a much stronger footing. (NewsWire)