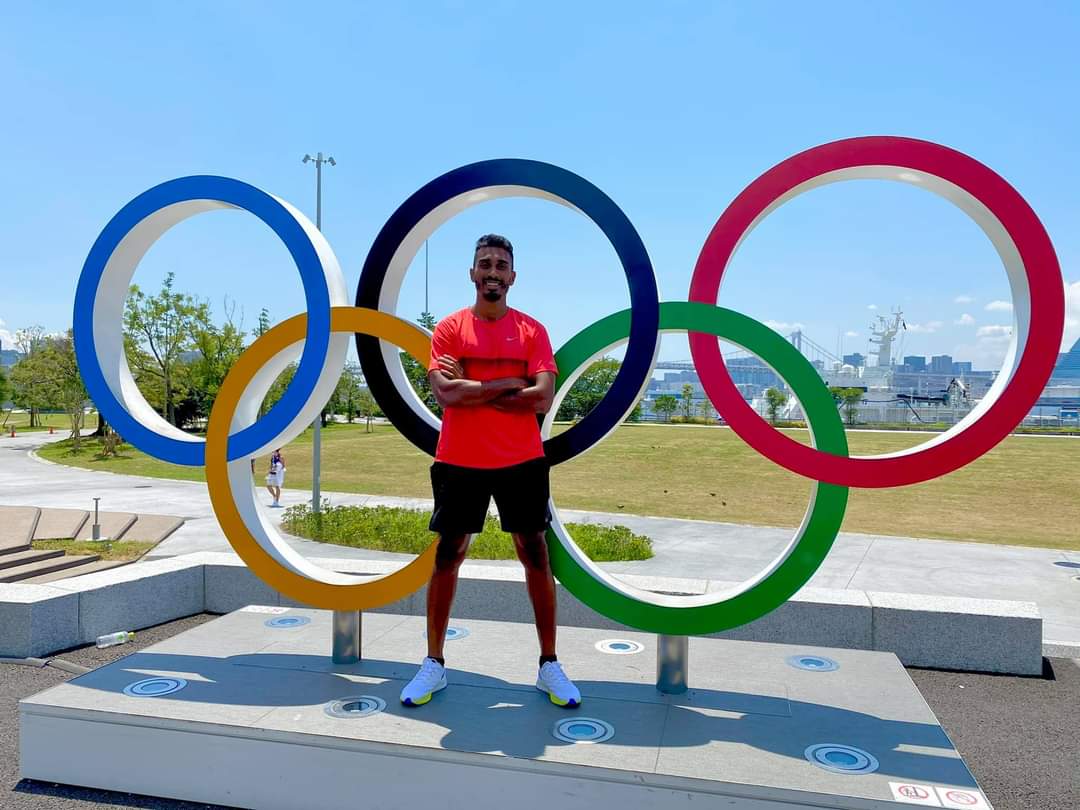 The fastest man in South Asia, Sri Lanka's Yupun Priyadharshana Abeykoon hopes he will write another page in the history of Sri Lankan athletics by recording a good time in his event at the ongoing Tokyo Olympic Games.
Abeykoon will compete in the Men's 100m heat on Saturday at 04.15 pm local time.
Issuing a statement ahead of his event, Sri Lanka's Yupun Priyadharshana Abeykoon had this to say:
Full statement: July 31 is the day.
I want to say what I feel at this moment. In the last few days I needed to keep my focus on the game but I thought it's a must that I take a few minutes and thank everyone who encouraged me to be here.
First of all, the Olympics is a dream of any athlete. Because only the best of the best can come here to this stage. Even it's wild card it's goes to the best person in each country for each event. So one can only imagine how many billions of people would be able to attend this event every four years. An athlete prepares a lot for this opportunity that happens only once every 4 years.
As a qualified athlete, I am very happy to be on this track today. Everyone knows about that journey I've come to be here. Many people have congratulated me on my achievements in the past, but this time the feeling is different because the wishes from everyone as a country has increased a lot. So thank you so much to all of you. Can't really read all of the comments and messages, there's so much.
My goal at this point is to keep the mentality good and to qualify for the next round by minimizing the pressure and recording a good time rather than winning a medal. A medal is the sole purpose of anyone competing. I am also preparing to compete for the same purpose. But I do not feel the unnecessary pressure of a medal at this time.
There are a lot of people who have recorded better times than me in this race. So this is not going to be easy, but it does not mean that I am going to compete with a losing mentality.
Because I was able to beat those who recorded better times in a lot of races. I hope everyone remembers the Diamond League I last participated. A lot of things can change in a race that ends between 9 and 10 seconds. But this is the Olympics. I believe in my abilities and training. I believe everyone's wishes will be a blessing in disguise for me. So in the end I will compete well to get a good result.
Finally, I am very happy and proud to have a large group of people in Sri Lanka who understand the way world athletics behaves and modern athletic technology. They always have a correct understanding of sports in Sri Lanka. So I thank them a lot for that. Because that is what gives an athlete the confidence to take the sport forward and to record world class medals in front of the name of Sri Lanka.
This is another milestone in my journey. I am going to the Olympic Stadium on July 31 with the hope of writing another page in the history of Sri Lankan athletics by recording a good time in this competition as well.
See you then. Victory to all …