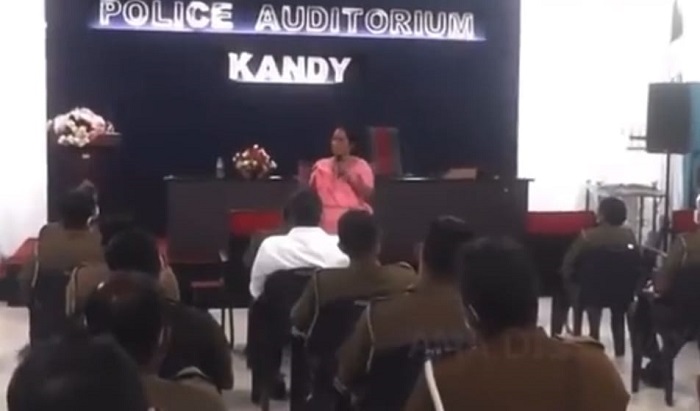 The Sri Lanka Police has been criticised for conducting a training programme that had promoted discrimination against the LGBTQ community.
Video footage of the training programme shows a counsellor educating and encouraging Police officers to discriminate against the LGBT community. 
It also shows the Police officers undergoing training agreeing to the views of the counsellor.
On Zero Discrimination Day in March, President Gotabaya Rajapaksa said as the President of Sri Lanka, he is determined to secure everybody's right to live life with dignity regardless of age, gender, sexuality, race, physical appearance, and beliefs. 
The Attorney General too had held that discrimination against LGBT persons is unconstitutional and violates Article 12 of the Constitution of Sri Lanka.
Commenting on the Police Department's training programme, several activists have criticized the Sri Lanka Police for endorsing such views. 
Former Commissioner of the Human Rights Commission of Sri Lanka (HRCSL) Ambika Satkunanathan said instead of addressing human rights violations by the Police against the LGBTQ community, the Police Department is training officers to be homophobic. 
"Seeming contradictions in govt policy aren't contradictions. They create a facade while staying true to their core values of discrimination & intolerance," she said. 
Meanwhile, human rights activist Aritha Wickramasinghe also condemned the training programme, and called out President Gotabaya Rajapaksa, questioning if the training, which is brainwashing and promoting hate against the LGBTQ community, is part of his policy.  
"This is @SriLankaPolice2 being trained. A YouTube counsellor teaching hate against #LGBTQ people and police singing in chorus they won't accept their #LGBTQ children. Prez @GotabayaR @RajapaksaNamal @ShamirZavahir. Is this brainwashing and hate against people like me your policy?" he tweeted.
He further pointed out that it "looks like the Police Department is being trained and brainwashed to violate people's right to equality and non-discrimination as opposed to protecting their Constitutional rights." (NewsWire)
This is @SriLankaPolice2 being trained. A YouTube counsellor teaching hate against #LGBTQ people and police singing in chorus they won't accept their #LGBTQ children. Prez @GotabayaR @RajapaksaNamal @ShamirZavahir. Is this brainwashing and hate against people like me your policy? pic.twitter.com/vWZt8XIPJG

— Aritha W (@aritha) August 2, 2021