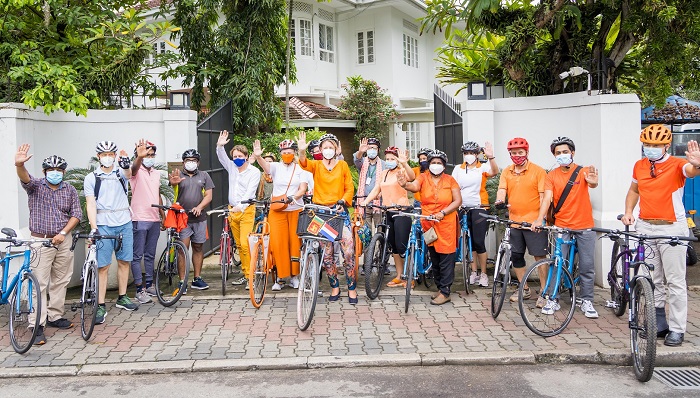 Today, the Embassy of the Kingdom of the Netherlands joins the global campaign "Orange the World: 16 Days of Activism against Gender-Based Violence" in Sri Lanka. On the International Day for the Elimination of Violence against Women, the Netherlands Embassy took the initiative to – together with UN agencies, diplomatic missions, governance institutions, private companies, and civil society organizations in Colombo – raise banners to urge people to "Say NO to violence against women and girls". 
Ambassador Tanja Gonggrijp launched the campaign by delivering the "Orange the World" banners by bicycle to other diplomatic missions and (international) organisations in Colombo that support the 16 days campaign. They will all raise the banner during the 16 Days of Activism, concluding on 10 December, International Human Rights Day. While delivering the banners, several Heads of Missions and representatives of (international) organisations joined the Ambassador's cycling tour in Colombo. Members of the Women Parliamentarians Caucus of Sri Lanka also joined the campaign at the Residence of the Ambassador, where the cycling event ended after delivering the banners.  
"Gender-Based Violence is one of the most prevalent human rights violations in the world. Globally, an estimated 1 in 3 women will experience physical or sexual abuse in her lifetime. Since the outbreak of COVID-19, the situation for women and children has worsened worldwide. Staying at home under the lockdowns proved especially dangerous for women, as domestic violence increased dramatically. The more reason to take a stance together against Gender Based Violence!", Ambassador Gonggrijp said.
"I decided to deliver the banners by bicycle as for many women and children worldwide the bicycle symbolises independence. It is your own mode of transport and, of course, also very sustainable. This event underlines the importance the Netherlands attaches to ending violence against women and girls. And it is also a gesture of appreciation for those organisations and individuals in Sri Lanka who work tirelessly to this crucial cause."  
"Orange the world: End violence against women now!" is an international campaign started in 1991. The colour orange, a colour symbolising hope, is chosen worldwide as the colour of the campaign. During the 16 Days of Activism governments and organisations worldwide organise online and offline activities to raise attention for and take action against Gender-Based Violence. (NewsWire)