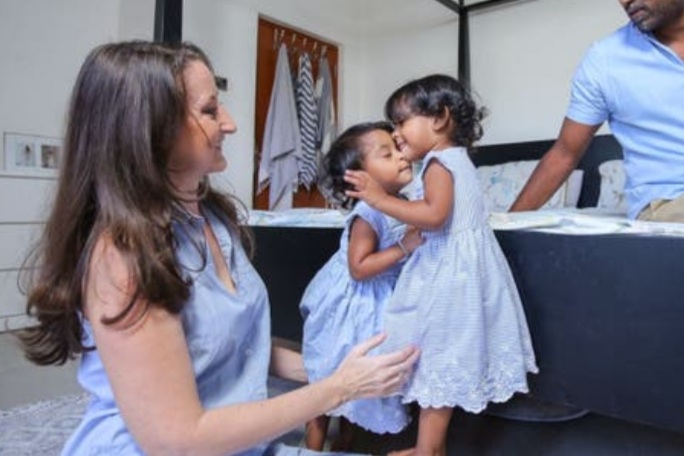 A London mother who needs emergency heart treatment in the UK is battling the UK Government over its refusal to allow her adopted twins to travel with her from Sri Lanka.
Lisa Keerthichandra and her husband Dash fell in love with Lavinia and Aria at an orphanage in Sri Lanka when the children were six months old and adopted them in 2019.
The couple from Enfield, who moved temporarily to Sri Lanka in 2013 and have since divided their time between their two homes, say they have been told by UK passport officials they cannot bring the children back to the UK, where Mrs Keerthichandra needs to undergo treatment.
The 44-year-old business owner has been diagnosed with unstable angina, putting her at risk of a sudden heart attack.
Lawyers and visa experts insist the twins, now three, are eligible for British passports.
However Mrs Keerthichandra says UK emergency passport officials told her to leave them in care while she flies home for an indefinite hospital stay.
This is despite the children having British adoption certificates and UK passport-carrying parents.
She told the Standard: "It is crazy that anybody in a UK government organisation would deem it acceptable to advise traumatised children be put back into care. It was horrific.
"When you are a mum, you don't fear for your life for yourself but for your babies. It wouldn't be possible to return to the UK for treatment without the girls.
"They have never had a single day without me and for me to disappear would just be another huge trauma that they wouldn't understand."
Health experts are unable to treat Mrs Keerthichandra in Sri Lanka, where the family currently live, due to complications surrounding her existing condition known as Ehlers Danlos Syndrome (EDS).
Doctors agreed it was much safer for her to fly home and be placed under the immediate care of her EDS specialist and cardiologists.
The family says it faces having to pay £8,000 in visa and legal fees on top of the £3,000 already spent while experts cannot agree on how to bring the children home from their house near Colombo.
Her condition means she often has to stay indoors, still struggles to breathe and is unable to pick up her children.
The family are now preparing an appeal via their lawyers in Sri Lanka.
The Foreign, Commonwealth & Development Office states it would not advise someone to put their children into care and would recommend alternative arrangements.
A UK Government spokesperson said: "We have been in contact with a British National and provided advice related to their application for Emergency Travel Documents." (Courtesy Evening Standard)