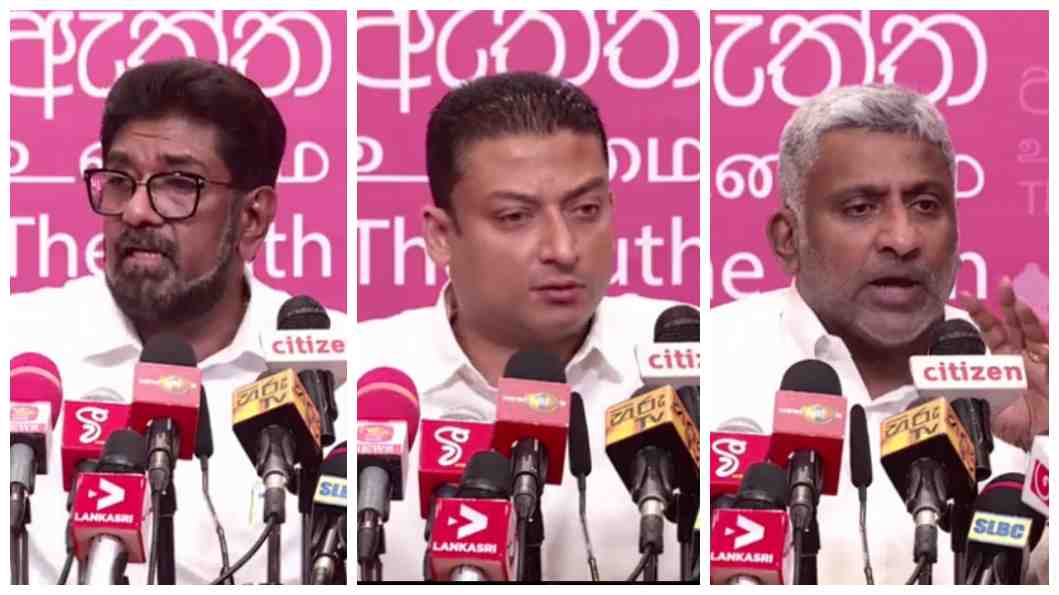 Government Ministers Prasanna Ranatunga, Dilum Amunugama, and Keheliya Rambukwella held a special media briefing today to address the public protest that was held in front of the President's private house in Mirihana last night.
Tourism Minister Prasanna Ranatunga confirmed that President Gotabaya Rajapaksa was inside his residence during the time of the protest.
He confirmed the information, despite various reports having earlier claimed that the President was not at his residence during the public uproar.
Minister Ranatunga said the President had been inside his house under special protection.
He further clarified the statement by the President's Office on the protest, which claimed that the protest had become unruly due to "extremist groups".
Referring to the word 'Extremist', Minister Prasanna Ranatunga said that the Government had not referred to religious extremists.
Minister of Health Keheliya Rambukwella also clarified that the Government referred to political extremists and not religious extremists.
Meanwhile, Minister of Transportation Dilum Amunugama also said that the word "Extremist' may have been wrongly used.
He said, instead, that It should have been addressed as 'Terrorists', explaining that only terrorists set fire to vehicles, etc.
When inquired if there are terrorists in the country even after the conclusion of the war, Minister Amunugama said there were terrorists in the country and should be addressed.
The detention of journalists who were engaged in duty during the public protest was also raised at the media briefing.
Commenting on the matter, Minister of Health Keheliya Rambukwella said the arrests of journalists are unacceptable, but cannot be prevented during such unfortunate events.
He, however, assured that the media rights of journalists will be protected during such unfortunate situations.
When inquired if the military will be deployed in the future following the public protest, the Minister said it depends on the requirements of national security.
He said, however, the President was vested with powers to make a call on the matter.
Stating that the forces had to act during such a situation, Minister Rambukwella said that this was the only way to prevent entry into the President's house. (NewsWire)