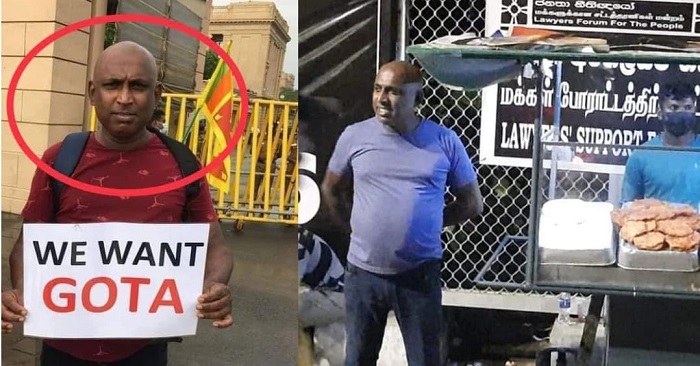 A man who had participated in a protest in favour of President Gotabaya Rajapaksa has been identified at the public protest against the President and his Government that is underway at the Galle Face Green in Colombo.
The man was spotted holding a placard with the slogan "We Want Gota" in front of the Presidential Secretariat during the pro-Government protest. 
Images of the man had been circulated on social media platforms through which his identity was verified. 
He was spotted by the public at the Galle Face Green protest site selling vade to protesters. 
The public had thereafter handed him over to the Police deployed on duty at the protest site. 
They had claimed that the man was a threat to the people, as he could poison their food.
The man was removed from the area after being severely chastised by the protesters and the Police. (NewsWire)
a man who attended the Iraj's protest to support Gota was caught distributing food to the #OccupyGalleFace protest. He was removed from the protest ground unharmed.#lka #SriLankaCrisis #SriLankaProtests #GoHomeGota #GotaGoHome pic.twitter.com/YvABByB8aB

— Prasad Welikumbura (@Welikumbura) April 14, 2022