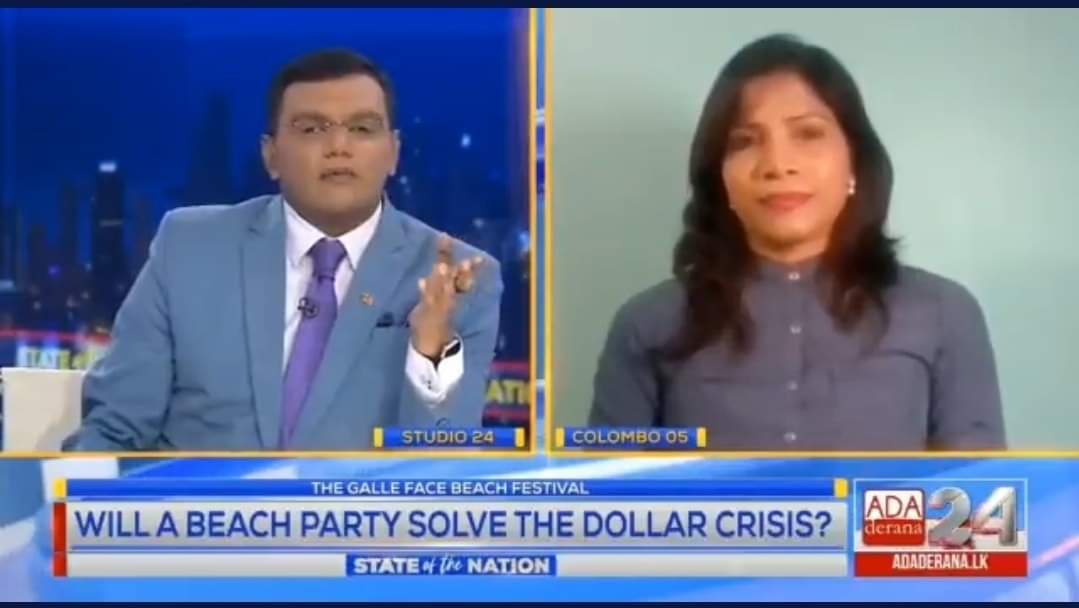 Prominent local media institution Derana Media Network has broken its silence on the recent programme 'State of the Nation' which likened the peaceful public protest at the Galle Face Green in Colombo to a "Beach Party".
Many social media users had criticized the television channel for the programme that was aired last night.
They also condemned the presenter for stating that people who supported the terrorist outfit ISIS were staging the protest and for also questioning the Cardinal's conduct.
Issuing a statement, Derana Media Network said the producer and presenter of the 'State of the Nation' programme Mahieash Johnney has tendered his resignation over the controversy surrounding the programme.
The local media network further said "as the 'disclaimer' aired at the beginning of the programme states, the views expressed were solely those of the presenter and do not reflect the values and ethos of the Derana Media Network." (NewsWire)
Idiots in the street = Protestors?
දෙරණ මේක පොඩ්ඩක් පැහැදිලි කරන්න මේ දෙරණේ මතයද, ආයතන ප්‍රධානී මතයද, නිවේදකයාගේ මතයද?
කවුද පාරේ ඉන්න මෝඩයෝ කියලා කියන්නේ? pic.twitter.com/LiUSEniMJp

— Budu℠ (@BuduMalli) April 17, 2022
Well done @AdaDerana_24 @tvderana impressive dollar talk. Presenter needs a good beach party show with ISIS around. Who's script is this? මොනාද බං මේ 💩 වැඩ? Protest එක අන්තවාදීන් එක්ක කරන beach party එකක් ලූ. TV Station එකත් විගණනය කරන්න වෙයි වගේ නේද? pic.twitter.com/N4WtAdWPs2

— Budu℠ (@BuduMalli) April 17, 2022