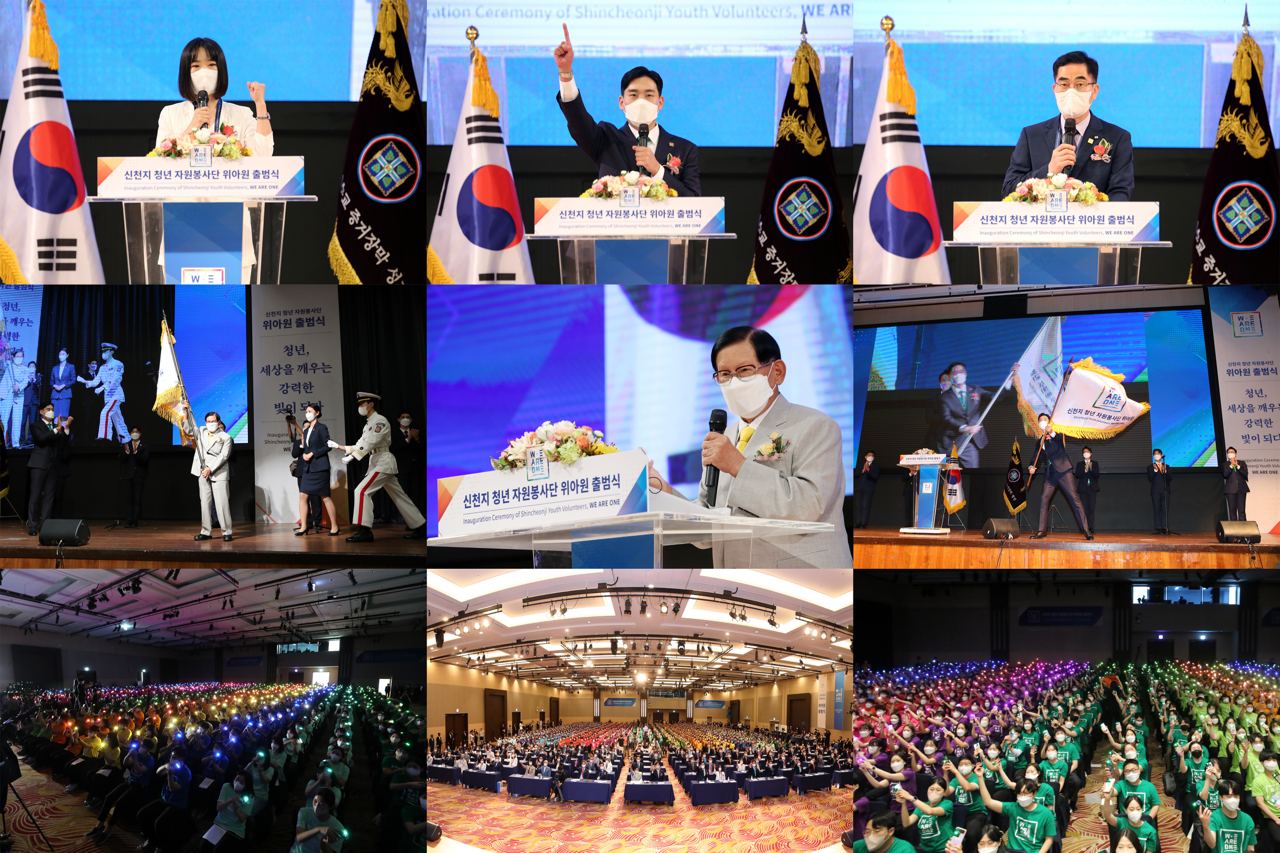 Shincheonji launched 'We Are One' – the largest social service youth volunteer group in Korea with an astounding 90,000 (70,000 domestic and 20,000 overseas) youth members from Shincheonji Church of Jesus who partake in various social service activities, including blood donations.
Young people have taken the lead to show Jesus' love for neighbors and a brighter future by setting a record number of 18,819 blood donations done over a brief time of 17 days, greatly contributing to resolving the blood shortage.
Shincheonji Church of Jesus, Temple of the Tabernacle of the Testimony (hereafter mentioned as Shincheonji Church of Jesus) held their 'We are One' launching ceremony at the convention center of 'The-K Hotel' in Yangjae-dong, Seoul on the 30th of July. Over 1,000 representatives participated in the launching ceremony from the volunteer group along with people from all walks of life. The remaining volunteers who were not able to attend the ceremony highlighted their presence through a live broadcast and shared their investment in these activities.
The inauguration ceremony consisted of two parts.
Part 1 – Opening ceremony (performance, opening ceremony, greetings, congratulatory speech)
Part 2 – Inauguration ceremony (commemorative video, launch declaration, inauguration speech, special performance, commemorative photo shoot).
To commemorate the launch of 'We Are One' Volunteer Corps – on the 27th of August, 70000 volunteers from Korea will once again participate in a Blood Donation Campaign for three months at each blood center located in 17 metropolitan governments like Seoul, Busan, Incheon, and Daegu.
Jae-yong Eom, president of the Seoul Southern Blood Center of the Korean Red Cross Organization, who participated in the congratulatory speech, said, "Congratulations on the launch of the Shincheonji Youth Volunteer Group We Are One! Thank you for choosing to partake in a blood donation campaign as your first volunteer activity. This work will contribute greatly to deal with managing the re-spreading of Covid-19 during the holiday period. I wish you good health and good luck."
At the event, Chairman Man-hee Lee said, "We are born in this age and have an obligation to illuminate and develop the are we live in. If God the Creator is with us, nothing is impossible… Jesus said to love your neighbor as yourself… Let us all unite and make a better world."
In addition to blood donations, We Are One Volunteer Corps established an activity plan to take the lead in resolving national challenges and global crises by practicing love for the social community and neighbors in four aspects:
△ Support Service
△ Creating a Sustainable Environment
△ World Peace
△ Education.
CEO of We Are One, Hong Junsu said, "We had in-depth discussions about the problems and solutions that young people face today. There are many members in the We Are One volunteer group with various talents, such as entrepreneurs, planning developers, designers, medical personnel, and social welfare experts. Together with them, we will solve the problems of the younger generation and take lead in creating a better world."
*On this day, the inauguration ceremony was held in accordance with the quarantine rules such as the mandatory wearing of a mask, hand sanitizing and temperature measurement before entering, maintaining distance between people, and periodic ventilation. In addition, medical staff were dispatched to the site so that immediate action could be taken in case of an abnormal reaction.