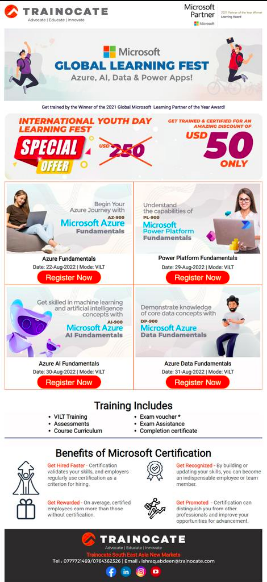 International Youth Day is commemorated every year on August 12th, bringing youth issues to the attention of the international community and celebrating the potential of youth as partners in today's global society. According to a UN report released on July 14th, 2022, the proportion of young people not in employment, education, or training (the youth NEET rate) has remained stubbornly high over the past 15 years and now stands at 30 percent for young women and 13 percent for young men worldwide.
Trainocate's Learning Fests are free, in-depth, virtual training events where beginners and professionals can learn the fundamentals of Microsoft. This year, on International Youth Day, they will be offering the Learning Fest courses worth 250 USD for just 50 USD exclusively for university students. Click here to find out more.
Trainocate has been at the forefront of Learning and Development including reskilling and upskilling young people, IT teams, tech professionals, and employees of diverse institutions in over 15 countries during the past 25-plus years. Trainocate is dedicated to providing the tools to empower individuals and organisations to achieve great things, along with the technical training they need to make it happen from anywhere.
So train with Trainocate and get certified by a Globally Recognized Training Provider and unlock your potential with an optimal learning experience!
https://qqavn5akyc.preview-postedstuff.com/V2-eGkd-Ckdu-mJaH-4mJp/
Follow them at www.trainocate.com to know more about new innovations in IT and training.