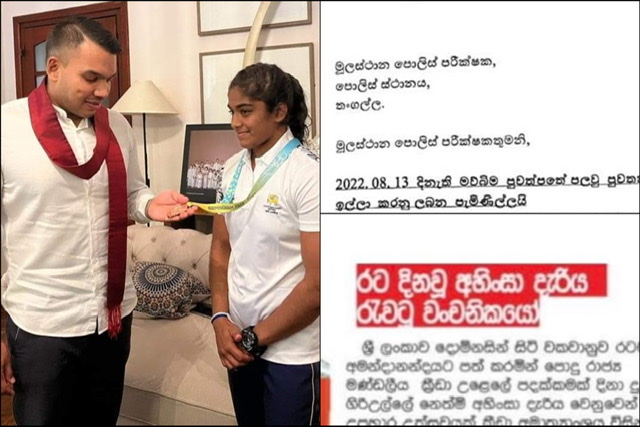 MP Namal Rajapaksa has lodged a complaint at the Tangalle Police Station, requesting for an investigation into an article published in the Mawbima newspaper, regarding Commonwealth Bronze medalist Nethmi Ahinsa meeting him.
The newspaper article alleges that a felicitation ceremony was organized for Nethmi in Colombo by the Ministry of Sports. However, since there was no transport facility for her to come to Colombo, a local SLPP politician has offered her transportation.
The report alleges Nethmi and her coach have been mislead by the aforesaid politician as he had secretly instructed his driver to take them to meet MP Namal Rajapaksa, instead of meeting Sports Minister Roshan Ranasinghe.
In his letter to the HQ Inspector of Police Tangalle, Namal Rajapaksa says that the newspaper article suggests that Nethmi had been forcibly taken to meet him without her knowledge. He also said that the news item depicts this incident as an abduction in a bid to tarnish his reputation.
While denying facts mentioned in the newspaper article, Namal Rajapaksa has requested for an impartial investigation into the contents of the said article. (NewsWire)