Amrak Institute of Medical Sciences is partnering with the University of Technology Sydney for a 2+2 Bachelor of Science program. This enables eligible graduates of the Higher National Diploma in Biomedical Science student at Amrak Institute to gain second-year entry to the Bachelor of Science program at UTS. It will pave the way for new opportunities for eligible students on their further international studies, outstanding career prospects and options to continue with higher studies leading to research.
Amrak Institute of Medical Sciences is an educational institute affiliated with Durdans Hospital specialising in Nursing, Biomedical Science and other Allied Health Sciences. Amrak takes an innovative approach to addressing the challenges in healthcare by providing a quality educational and practical experience. Amrak seeks to elevate the quality of education in Sri Lanka by working with distinguished faculty and advisers, consultants and dedicated teachers whose skills are further enhanced by state-of-the-art labs, VR technology and practical sessions at Durdans Hospital.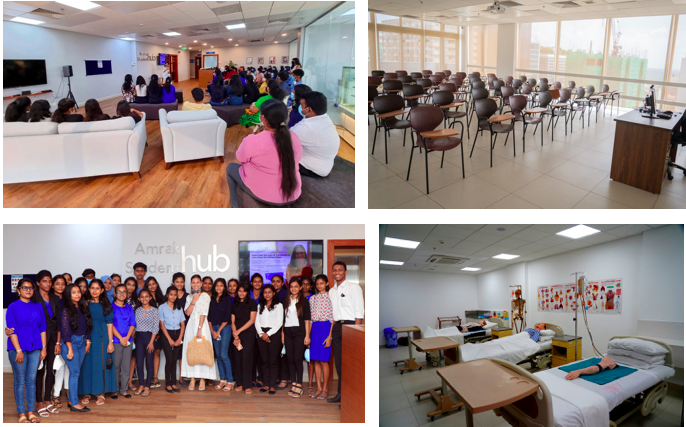 The 2+2 program gives ambitious students the opportunity to receive a fast-track high-quality education both locally and internationally. The Bachelor's in Science will give students a well-rounded education experience with good career opportunities and potential for research through higher studies. This is facilitated especially due to their practice-centred approach and numerous areas of research including but not limited to antibiotic resistance, autoimmune diseases and bacteriology, and underpinned by state-of-the-art facilities.
If you or anyone you know would be interested in this accelerated program register for Amrak's September intake today! Call us on
+94777974479
+94768392715
+94762912715
+94762622715
Amrak Web – https://amrak.lk/
Amrak HDBMS – https://amrak.lk/diploma_courses/higher-diploma-in-biomedical-science/
Click here to find out more about the UTS Biomedical Science Degree program https://www.uts.edu.au/study/find-a-course/bachelor-science#fees–international