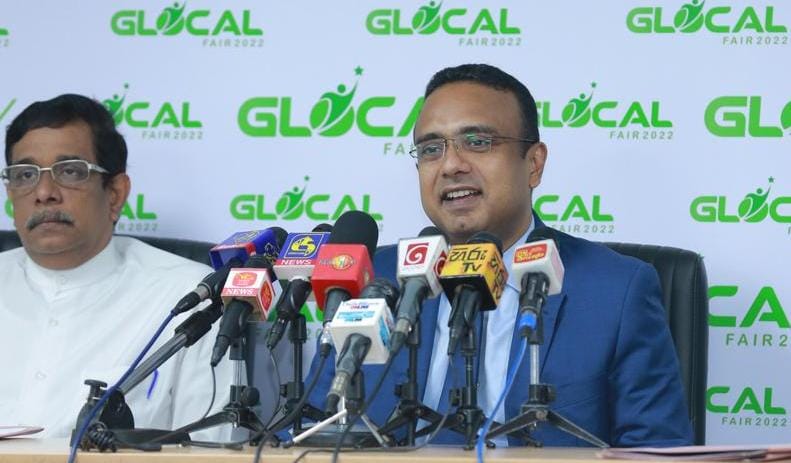 'Glocal Fair 2022' which will be held at the Galle 'Samanala' stadium will bring together all the institutions under the Ministry of Labour as well as local and international employment providers under one roof.
This will provide people in the area an opportunity to get all relevant information about the services provided by the ministry, solutions to labour and welfare issues of workers and information regarding opportunities at local and foreign employment, Labour and Foreign Employment Minister Manusha Nanayakkara said.
He said the public will have access to all matters related to the pension system for migrant workers and the newly introduced vehicle permit for migrant workers who have remitted earnings through official channels.
The minister addressing the media further said:
The Ministry of Labour is responsible for the welfare and wellbeing of all the workers in the country. Our ministry is responsible for the manpower of the entire country. Our ministry's subject range is very wide and it includes finding employment for the country's youth, directing them for foreign jobs, providing solutions to the problems of the migrant workers and providing solutions to the issues faced by all workers in general.
We need to go to the people instead of working from offices. We need to look into people's problems and help them. We decided to go to the village and provide our services. As an initial step, we are implementing this programme by the ministry to educate, solve issues and provide all services of the ministry while going to people's doorsteps, by going to their villages. One can also identify this as a mobile service. One can say that this is a carnival and a fair that provides services. However, we call this as 'Glocal'. This is an opportunity for the people to learn about employment opportunities globally as well as locally and also get solutions to labour related issues. The inaugural event in this programme will be held at the Samanala stadium in Galle on October 15 and 16.
Here the public will get an opportunity to learn about local jobs, foreign jobs, get solutions to labour related problems provided by the Ministry of Labour and Foreign Employment. Also, we are working to connect with the private sector, conduct studies about jobs, and provide all our services while going to the villages, people's doorsteps.
This will go beyond a traditional mobile service and will be an international level programme. For those who want to join this, in the future a QR code system for registration will be introduced. You can register through it then. Employment agencies, foreign employment agencies, youth training agencies, private universities, and vocational education agencies can join this. All this takes the form of a complete festival, but it functions as a ministry mobile service. Information related to this will be constantly updated through the media. A separate website will be opened for this and a separate Facebook page too will be initiated".
Here, expatriate workers are given the opportunity to learn about the provision of vehicle licenses to buy electric vehicles and the pension scheme offered to them. This will be a place where ones future could be changed with new opportunities and greener pastures for a bright future. This is a festival that provides services. But one can question if this is appropriate in these difficult times. But we are not doing this by spending government money. With this programme we intend to carry our services to the village.
By this we can let the people get all related services to our ministry in their villages itself. They don't have to spend money for travel and hassles related to travel will be over. All the work done by the ministry will be under one roof at these events.
Meanwhile Minister of State for Foreign Employment Promotions Jagath Pushpakumara said:
This is something going beyond the traditional job fair experience we have seen before. In addition to all the institutions of the Department of Labour, the Central Bank is also involved in this. Therefore, you can get solutions here for all your issues including ones related to EPF and ETF. Therefore, all those in the southern province who have problems related to these institutions should inform us about those problems. Please address all issues to Secretary, Global Fair 2022, Ministry of Labour, Narahenpita, Colombo. If you let us know in advance then we can prepare solutions for all of them. It is more effective to notify us in writing in advance than to present problems at the loaction.
The heads of all the institutions under the ministry including the secretary of the Ministry of Labor attended this event.