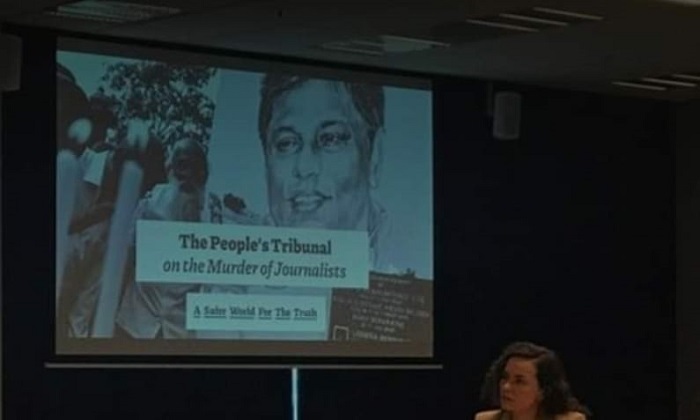 The People's Tribunal at The Hague, the Netherlands has issued an indictment against the Government of Sri Lanka (GoSL), which it found guilty of the murder of journalist Lasantha Wickrematunge.
The People's Tribunal on the Murder of Journalists issued the indictment yesterday (19) following a series of civil society-led hearings over the murder of journalists in Sri Lanka, Mexico, and Syria.
Announcing the indictment, Judge Eduardo Bertoni, who is part of the panel of judges of the Tribunal, noted that the indictment was filed on the basis that the prosecutor holds the Democratic Socialist Republic of Sri Lanka responsible for the grave violation of the international human rights of the slain journalist  Lasantha Wickrematunge. 
He further stressed that the indictment was filed specifically on the right to life, the right to freedom of expression, and the right to an effective remedy. 
"The Government violated Wickrematunge's right to freedom from discrimination based on political opinion," Judge Bertoni highlighted.
Meanwhile, Judge Martina Forti, highlighting Wickrematunge's case, stressed that the audacious attack on one of Sri Lanka's best-known and most outspoken journalists shows a larger problem that independent-minded journalists in Sri Lanka faced during that time and are still facing today.
She noted that the Tribunal session was held on 12 and 13 May 2022, in The Hague, and over the two days of the hearing, testimony and documentation were presented regarding the extrajudicial killing of 27 journalists and 17 media workers between 2004-2010. 
"These killings have not been effectively investigated and the perpetrators were not convicted, while most journalists are believed to have been killed because of their criticism of the Government, the decades-long civil war, or because they supported the Tamils," she added.
Commenting on the indictment, journalist Wickrematunge's daughter Ahimsa Wickrematunge said, "the People's Tribunal has achieved justice for my father which the Government of Sri Lanka failed to do in 13 years."
Ahimsa Wickrematunge said that the judgement has given renewed strength and hope to her and she sees it not only as a victory for families like hers hoping for justice for their loved ones but as a clear message that perpetrators of such crimes cannot evade justice.
"My family express our undying debt and eternal gratitude to the People's Tribunal, Free Press Unlimited, Committee to Protect Journalists. and Reporters Without Borders for their dedicated hard work and collaboration in bringing this project to life and to each and every person who contributed," she added via a message on Twitter.
Sri Lankan journalist Lasantha Wickrematunge was assassinated on 8 January 2009, by unidentified gunmen on motorcycles in Ratmalana. (NewsWire/ agencies)