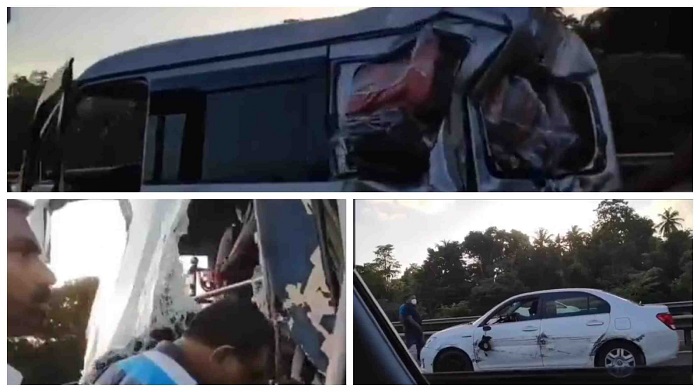 A multi-vehicle collision has been reported at the 4.2 km area on the Southern Expressway due to a land monitor lizard.
A lorry plying on the expressway had avoided the land monitor lizard resulting in a multi-vehicle collision involving a passenger bus, van, and car.
Three persons who had sustained minor injuries in the accident that occurred last evening (21) have been hospitalized.
Investigations have revealed that the lorry driver had seen the land monitor lizard feeding on the carcass of a dead tortoise on the road and had attempted to avoid it.
However, the lorry had run over the land monitor lizard and had stopped abruptly, resulting in the bus, van, and car travelling behind colliding with one another. (NewsWire)
A multi-vehicle collision reported at the 4.2 km area on the Southern Expressway yesterday pic.twitter.com/UEGRslASnM

— NewsWire 🇱🇰 (@NewsWireLK) September 22, 2022