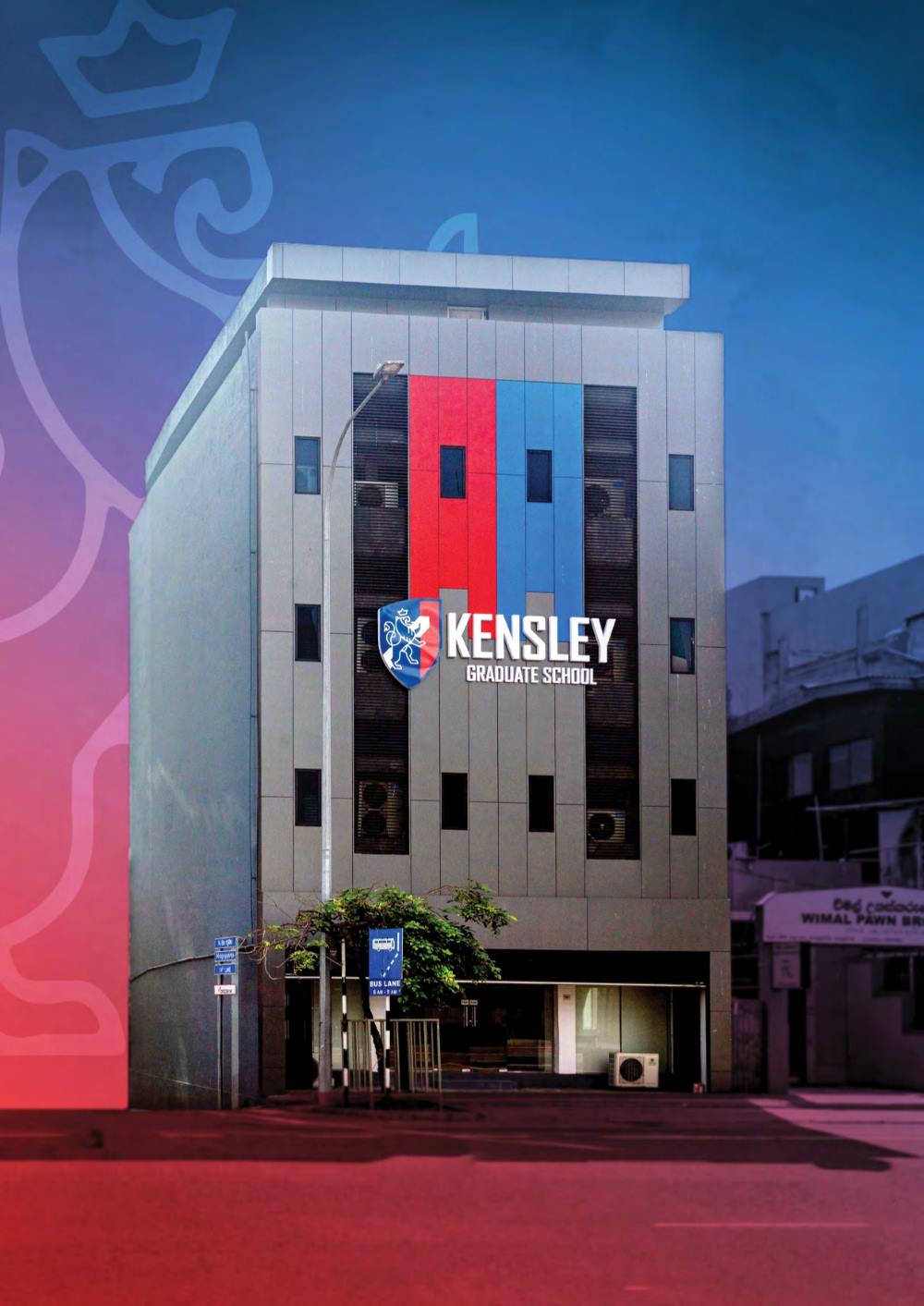 2022 has been a year of milestones for Kensley Graduate School, Sri Lanka's premier postgraduate institute. The school opened its newest campus recently at No 396, Galle Road, Kollupitiya.
Located in the heart of Colombo, and within easy reach of the city's major bus routes, the new building covers 15,000 additional square feet of campus facilities and office space over five-stories with state-of-art amenities comprising lecture halls, library, cafeteria and well-equipped conference hall offering the quintessential student experience on par with international standards.
The new campus is part of its network of campuses in key locations; Colombo, London, and Dubai. Over the last 5 years, Kensley Graduate School has branched out to become the only institute on the island to provide students with 13 different disciplines to choose from, for their postgraduate studies (visit our website for further information).
Founded in 2018 by two visionaries in education with a mutual interest in bringing global opportunities for Sri Lankan students. The school has been growing exponentially, making forays into education fields that are still in its infancy in this part of the world, thereby ensuring that our students don't miss out on anything.
Kensley, as always, has been a game-changer and trailblazer since it appeared on the education scene with many more projects in the pipeline. Opening a new chapter in its commitment to offer world class education to students across the country, Kensley has launched a range of postgraduate qualifications, across multiple disciplines; some of which are a first for Srilanka- including the Level 07 Postgraduate Diplomas  in Data Science awarded by Qualifi ; Artificial Intelligence(awarded by ATHE,UK) and also Police Management and Leadership(awarded by OTHM,UK).It would be heartening to know for students with aspirations of living the North American dream that these awarding bodies have been granted the recognition of WES (World Education Services) and ICAS, Canada, which would give them a leg-up in realizing their dreams of continuing their studies abroad.
It has also partnered with the IABAC (International Association of Business Analytics) to provide aspiring Data Scientists the ultimate, all-round, industry-relevant training that would propel them to the pinnacle of their corporate career and goals by putting their best foot forward. We are also the only institute to offer students with this unique advantage, which is why you cannot go wrong with Kensley as your institute of choice.
Overwhelmed by the myriad of choices before you, and still sitting on the fence; not being able to make the right decision? Kensley's got your back.
Walk into our college premises for one-on-one counseling sessions by our expert counselors or hit us up on any of our hotline numbers. We will be on call to help you out with your queries. You can also follow us on our various social media channels to be in the know and to find out what's new at Kensley.