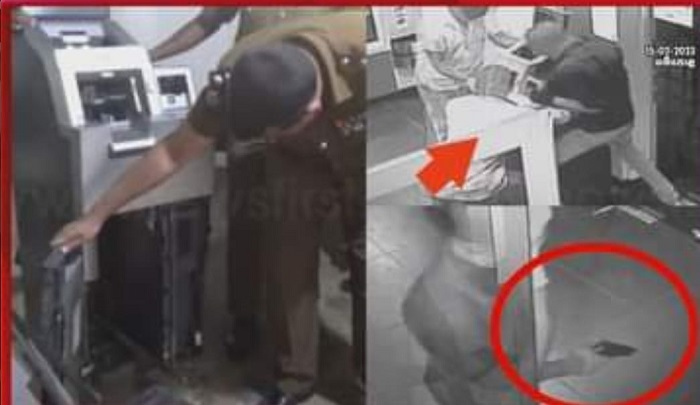 Police investigations have revealed that among the seven suspects arrested over the Gampola ATM machine robbery in January, four are from the same family.
Police spokesman SSP Nihal Thalduwa told the media today that two suspects each were arrested from Gampola and Puttalam, and three were arrested from the Galaha area.
He stated that the suspects had stolen the ATM machine from a private bank in Gampola and had taken the Rs. 7.6 million in cash after which they had discarded the ATM machine in a precipice 200 meters from the location.
The Police have found the ATM machine, and they have also recovered over Rs. 1.7 million in cash, a van, a motorcycle, gold chains, a gold ring, two washing machines, three mobile phones, and a gas cooker from the suspects' possession. 
The Police spokesman said the suspects had purchased several more items and are also reported to have conducted monetary transactions with various people. 
SSP Nihal Thalduwa further stated that a pistol that had been stolen from the residence of MP Ali Sabry Raheem in Puttalam during anti-government protests last year had also been recovered from teh possession of the suspects. 
The Police suspect that the group had used the said firearm to carry out the robbery.
SSP Thalduwa said that investigations have also revealed that the group had been involved in a similar robbery of a state bank in the Gampola area as well as two gold jewellery stores on previous occasions.
He added that the Gampola Police is conducting investigations into all incidents involving the suspects. 
Four masked individuals had stolen the ATM machine with nearly Rs. 8 million in cash from a private bank in Gampola at around 12.40 am on 25th January 2023.
Police investigations had revealed that the group had arrived in a van and had tied up the security officer at the bank after which they had stolen the ATM machine. 
It was later revealed that the van used for the robbery had been found abandoned in Peradeniya along with its driver with his hands tied four hours after the robbery.
Police investigations found that the group had hired the van and had abandoned the driver during which time they had carried out the robbery. Following the robbery, they had picked up the driver and abandoned him along with the vehicle in Peradeniya. 
Police investigations had led to the arrest of 2 suspects after which seven suspects had been arrested yesterday (14). (NewsWire)