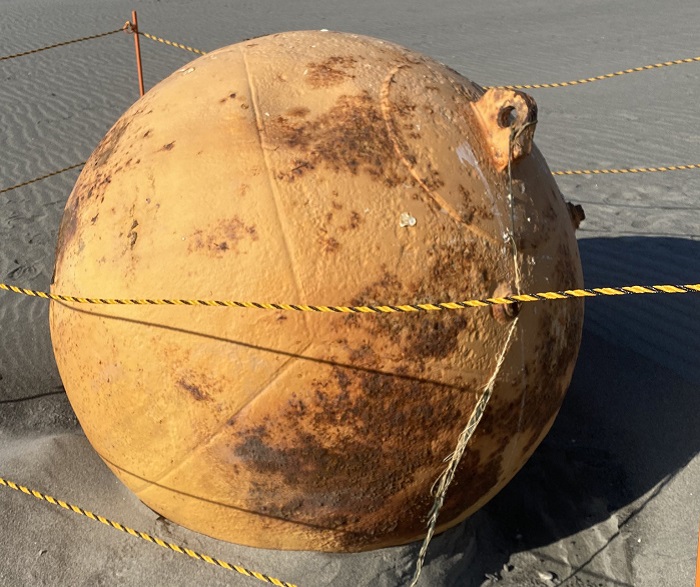 A mysterious iron ball nearly 5 feet wide was found on a beach in Hamamatsu City, Japan, this week. Officials scrambled to ensure the giant ball was not a bomb, according to Japanese broadcaster NHK, which released video of police examining it. 
The ball is not a bomb, officials said – but its origin is still unknown. The peculiar orb, which is hollow and sand-colored, has baffled locals and social media users.
The ball was first spotted by a local resident, according to NHK. Law enforcement closed off the beach as they examined and X-rayed the object, deeming it safe. It will be removed from the beach soon, local authorities said. 
One local man told NHK he came to the beach for a run and was surprised at all the attention on the ball because he claims it had been there for a month. "I tried to push it, but it wouldn't budge." 
CBS News has reached out to officials in Shizuoka Prefecture, where Hamamatsu City is located, and is awaiting response.
Suspicious objects spotted around the world have made headlines in recent days – mainly so-called "spy balloons" from China. A balloon spotted over Montana earlier this month raised concerns as the U.S. government tracked its path over the U.S. The balloon was shot down off the coast of South Carolina and recovered in the Atlantic Ocean.
More balloons have been spotted over five continents and the Pentagon said the balloon shot down off the coast of South Carolina is part of a "larger Chinese surveillance balloon program" that has operated for several years. 
China says the ballon is a weather device that veered off course.  
While the ball that appeared on the beach in Japan is not a floating balloon, it comes at a time of heightened concern over unidentified objects. 
China and Japan also held security talks on Wednesday — their first in four years, according to BBC News. Japan expressed concern to China about the balloons, which have appeared over Japan since 2019. (CBS News)